If you're comparing Adyen vs Stripe vs Zai, you're probably:
Looking for a reliable and affordable payment platform.

Trying to understand the difference between each provider and which one would work best for your company.

Trying to understand which one will offer the best buying experience to your customers.
In this article, we'll be talking about:
Are you looking for a payment partner that'll help you set up custom payment solutions? Book a call with one of our experts to see how we can help you.
Adyen vs Stripe vs Zai comparison chart
Let's compare each, Adyen, Stripe and Zai, in this table:
Zai
Adyen
Stripe

Transaction fees

1.5% + $0.16 gateway fee for domestic cards

2.8% + $0.16 international cards

Customised rates available for businesses that handle large payment volumes, high value transactions, or who have unique business models

$0.12 + payment method fee (1)

1.75% + $0.30 for domestic cards and 2.9% + $0.30 for international (12)

Number of payment methods

All popular payment methods in Australia, including:

Card payments

BPAY

NPP real-time payments

PayTo

Direct debits and more

Accept payments in over 130 currencies and 40 countries (2)

Accepts payments in 135 currencies and 47 countries (13)

Type of account

Merchant account provider

Merchant account provider (3)

Merchant account provider (4)

Split payments

Yes (custom)

Yes (not custom)

Yes (not custom)

Risk management system

PCI Service Provider Level 1

Revenue Protect

PCI Service Provider Level 1

Card issuing programme

No

Yes (7)

Yes (22)

Integrations

Custom

100+ (8)

680+ (21)

Local support

Yes

No

No

Custom-built payment models

Yes

No

No
Zai
Since we're the ones writing the article, we thought we'd start with ourselves. Here are some of the benefits and features of working with Zai to process payments.
Once you're onboarded, you'll always be able to collect payments
One of the issues with some other card payment gateways is that they only do know your customer (KYC) with you and onboarding once your first customer payment is being disbursed.
Although that means that you'll sign up for their service rapidly and can start accepting payments quickly, it also means that at the most critical moment (at disbursement) you'll need to go through KYC, which could cause delays and cause customer experience issues.
This can be frustrating and impact business negatively, especially if you are a large business processing thousands of card payments per day.
With Zai, we go through a rigorous onboarding process, where we'll run through all our compliance checks and KYC before you start accepting payments. The process does take longer, but once you're onboarded, you won't have to worry about frozen or suspended funds or delays.
No fee for active users, and transaction fees are affordable
Whereas Adyen charges $0.12 + payment method fee (1) and Stripe charges 1.75% + $0.30 for domestic credit cards and 2.9% + $0.30 for international cards (12), at Zai, we charge 1.5% + $0.16 for domestic credit cards and 2.8% + $0.16 international cards. We also offer bespoke rates for large-volume and high-value transaction businesses.
We don't charge any fees for active users, which makes us a lot cheaper in the long run, especially if you're working with thousands of active users.
Discover more about accepting card payments with Zai:
Offer multiple payment methods so your customers get a great purchase experience
At Zai, we do more than offer card payments. We've been managing payments for businesses for over 10 years in Australia. We're specialists in split payments and building custom payment models and solutions.
With our API, you'll be able to offer customers more payment methods, including:
BPAY.

NPP real-time payments.

Wire transfer.
As your business evolves, you might also want to set up split payments, or a custom payment solution that works specifically for your business model. We can also help you integrate recurring payments and billing.
(Want to dig a bit deeper into the nuts and bolts of what we offer? Feel free to take a look at our API docs).
For example, we helped a property tech company build a custom payment solution for their complex payment flow (more on this later).
We work with you as a long-term partner
At Zai, we're not self-serve or hands-off with our clients. We offer a personal and partnership approach with our clients to ensure you always have the best customer support possible.
Since we're based in Australia, we offer localised support available at all times: we're only a phone call away from helping you get what you need.
This allows us to guide you through every step of your payments journey with us and offer you consultative support once you're onboarded.
Access the highest level of security and protect your customers
Our API comes with built-in protection. You'll automatically be able to implement anti-money laundering (AML) and KYC checks and sanctions screening.
With our API, you can rest assured you'll have access to:
Fraud protection.

User verification.

Transaction monitoring.

Dispute investigation.
And thanks to our recent partnership with Worldpay, we can help you scale by accepting overseas payments with global reach. Our partnership will allow us to accept cards all around the world as well as enable 3D Secure 2.0, real-time fraud detection and digital wallets. We can even offer local payment methods, like Apple Pay and Google Pay.
Our sister company, CurrencyFair, gives business customers access to local bank accounts in leading markets that enable you to treat your international payments as domestic payments to save you both time and expenses. With CurrencyFair's multi-currency accounts, you can exchange currencies safely and transfer funds in 150+ countries.
Learn more about the story of Zai.
How property management companies can use Zai's API for multi-party payments
Proptechs are complex entities with multiple stakeholders, suppliers and liabilities, such as:
Investors.

Landlords.

Standard utility providers.

Service providers like tradespeople.

Insurance.

Financial liabilities (e.g., loan repayments).
Every stakeholder will have different amounts due and they often have specific payment requirements, such as requesting payments to arrive on certain due dates.
Splitting payments and transferring them to multiple parties manually for all of your properties means you'll spend hours calculating and completing these payments – a process that isn't sustainable as you grow your business and add more properties.
Instead, you can automate this process thanks to Zai's API:
Create a custom payment flow as soon as you set up Zai's API.

You can then provide a user ID to each party on every side of a payment.

Each user ID will then receive a unique wallet that links directly to the customer.

You can then decide how you want to split and execute every payment event (also known as an item in the chart below) by creating rules through an API request.





According to your rules and the system's logic, payments can move fluidly between wallets to the respective parties.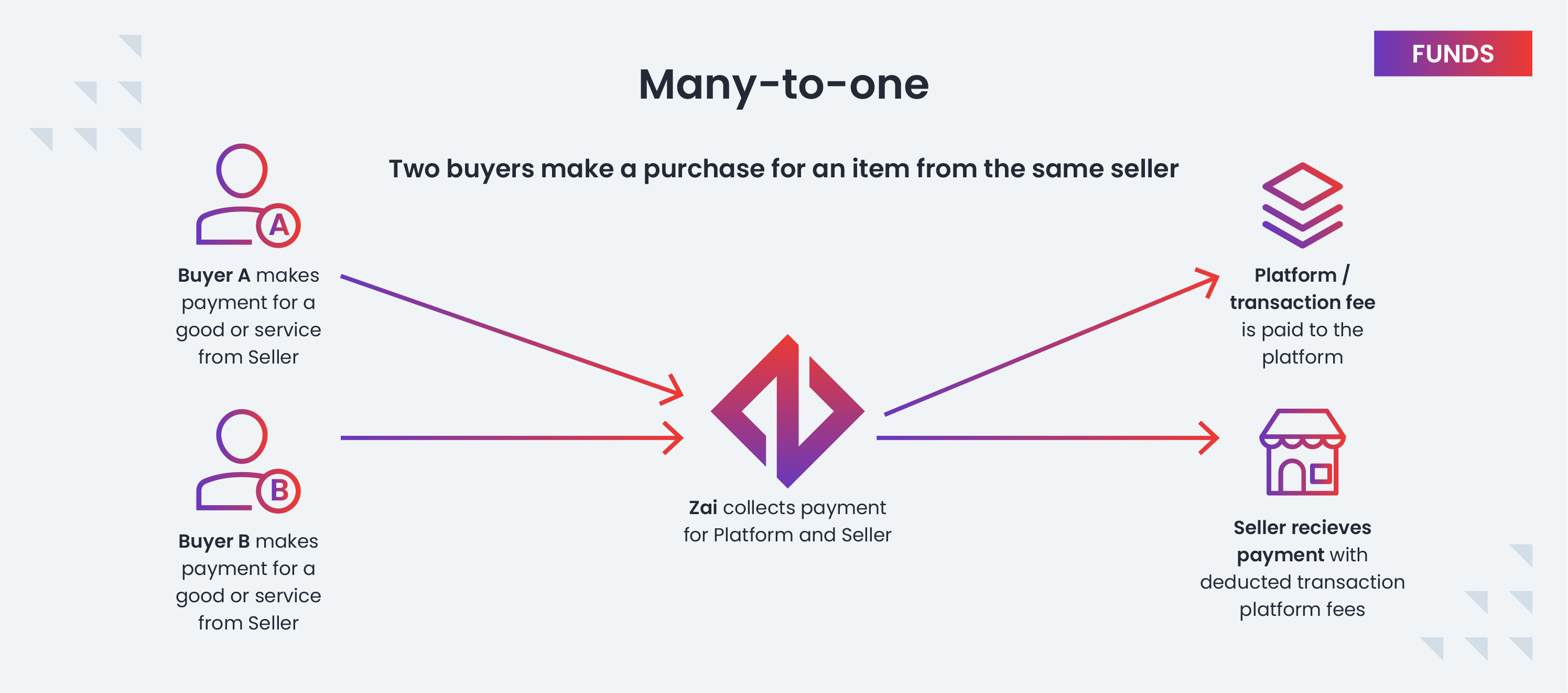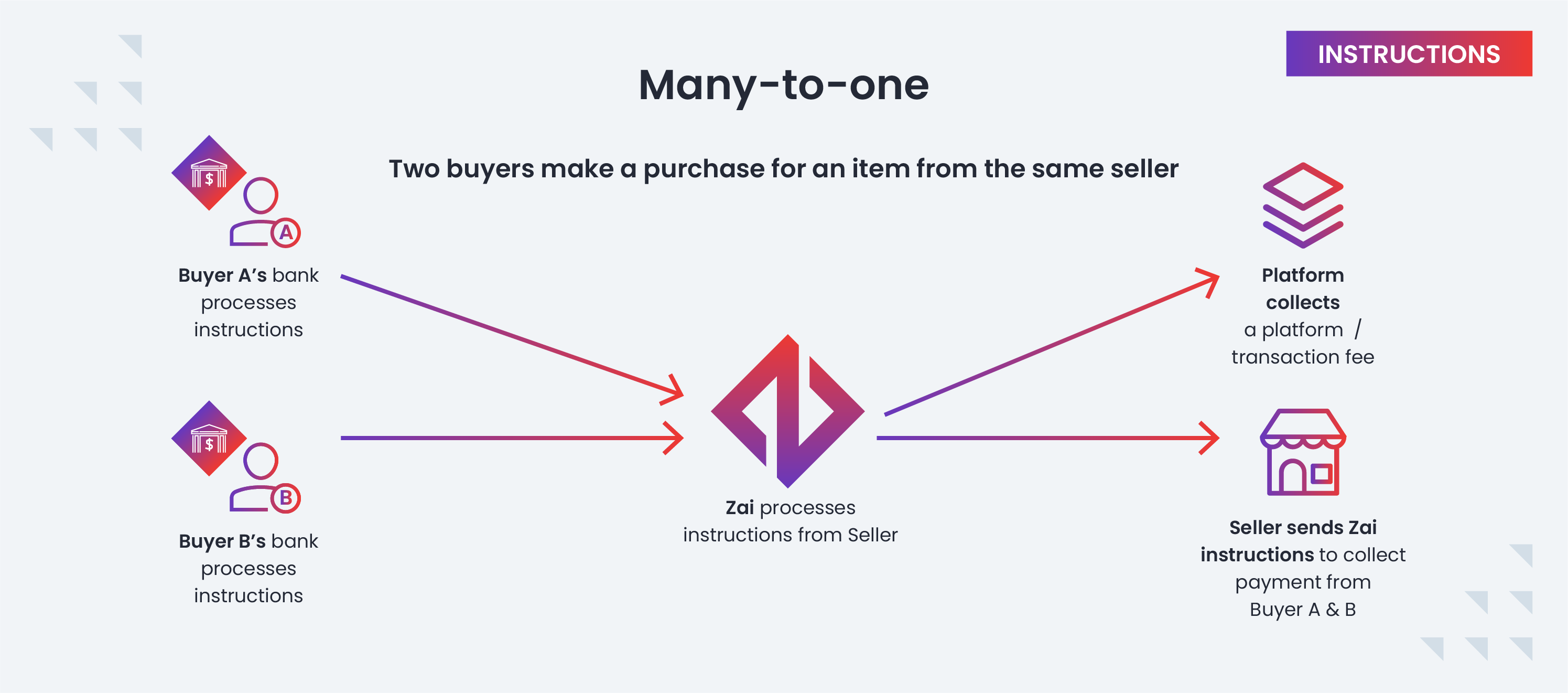 This makes it a lot easier to move money from the wallet to each party's financial account and take your own fee simultaneously.
Learn more about how our API does split payments: Split payments API: How Zai's API can help you set up a custom payment workflow.
Of course, Zai's split payments API doesn't only work with the property management industry. We work with online marketplaces and platforms. Even B2B suppliers who work with consumer goods use our split-payment API to successfully manage fast-paced transactions across multiple parties.
Who is Zai best for? We're best for companies with complex payments needs and that want to offer multiple payment methods to customers. Get in touch with us now if you'd like to get set up.
Adyen
Adyen is a payment service provider with a global presence. Ayden aims to unify the payment experience across all channels, both physical and online.
Top Adyen features:
Transaction fees: Interchange-plus pricing (Adyen fees include a payment processing fee and a payment method fee for each transaction). (1)

Types of payment methods: Adyen accepts payments in 30+ currencies and approximately 100 countries. (2)

Type of account: Merchant account provider. This allows you to open multiple merchant accounts. (3)

Customisable APIs: Customisable APIs for online payments, POS solutions, plugins and platforms. (4)

Take offline payments: Offer both online and offline payments, including a POS solution. (4)

Receive a monthly processing invoice. (5)

Proprietary risk management system: Adyen uses its own RevenueProtect to prevent fraud. (6)

Card issuing: Adyen has an issuing programme offering physical and virtual cards. (7)

Payouts: Payouts can be programmed or received immediately. (8)

Integrations: 100+ in commerce. (11)

Types of payment methods: over 100 (2)

They process PayPal, Samsung Pay, and Maestro. (2)

Chargeback fee for disputed payments. (9)
Who are they good for? According to Nerdwallet, Adyen is good for high-transaction-volume online businesses "that want to get the most out of their payment transaction processes." (10)
Stripe
Stripe is a global payment gateway that focuses on getting businesses and e-commerce set up and running quickly with their API.
Top Stripe features:
Transaction fees: 1.75% + $0.30 for domestic cards and 2.9% + $0.30 for international. (12)

Stripe currently supports 135 currencies across 47 countries. (13)

Type of account: merchant aggregator. A merchant aggregator combines the functions of a payment processor and merchant account provider into one. (14)

Sign-up process is quick and instant. (15)

Set up customisable invoices. (17)

Stripe Billing: Offer multiple types of billing. (18)

Stripe is certified to PCI Service Provider Level 1. (19)

Payouts: Payouts are two business days, per a schedule that can be programmed. Instant payouts are available for a 1% fee, minimum 50 cents. (20)

Integrations: 680+ in areas of payments, operations, marketing, and finance. (21)

Types of payment methods: 23. (22)

Stripe Payment Link makes it easy to create a full-featured payment page and share it with customers via any platform, from email to social media. (23)

Stripe Terminal lets customers create a simple, attractive, and full-feature checkout to post on websites. (24)

Stripe Connect allows customers to accept payments and split them across users. (25)

Chargebacks are up to 0.5% of each transaction. (26)
Who are they best for? According to Nerdwallet, Stripe is good for smaller businesses that need fast access to an easy-to-use solution, especially as a payment integration with another system. (10)
Choose the payment provider right for you
We hope this article gives you a better understanding of the difference between Adyen, Stripe and Zai.
If your company is looking for a specialist based in Australia that can help you build a custom payment solution and guide you along each step of the way, as well as grow with you; Zai might be a good option for you.
Schedule a call with one of our payment experts to get started!
This information is correct as of December 2022 This information is not to be relied on in making a decision with regard to an investment. We strongly recommend that you obtain independent financial advice before making any form of investment or significant financial transaction. This article is purely for general information purposes.
Sources:
https://www.adyen.com/pricing

https://docs.adyen.com/payment-methods

https://docs.adyen.com/account/account-structure

https://docs.adyen.com/api-explorer/

https://docs.adyen.com/reporting/invoice-reconciliation/payment-processing-invoice

https://docs.adyen.com/risk-management

https://docs.adyen.com/issuing

https://docs.adyen.com/marketplaces-and-platforms/classic/payouts

https://docs.adyen.com/risk-management/manage-disputes

https://www.nerdwallet.com/article/small-business/adyen-vs-stripe-2022-comparison

https://www.adyen.com/en_GB/partners/network

https://stripe.com/au/pricing

https://stripe.com/docs/currencies

https://secureglobalpay.net/need-merchant-account-stripe/

https://dashboard.stripe.com/register

https://stripe.com/docs/invoicing/customize

https://stripe.com/en-au/billing