If you're scaling an Australian online marketplace, you might face challenges other businesses don't, such as:
Splitting payments between multiple parties.

Managing both collection and disbursement.

Creating payment workflows that match your business needs.

Manual processes that slow your teams and business growth.

Adhering to complex regulatory requirements, which requires time and additional resources.
The right payment provider can not only help solve these challenges for your marketplace, but they can boost every part of your business from branding, growth and reputation to internal operations and even the business model itself.
In this article, we'll cover:
Looking for a marketplace payment provider to take your business to the next level? Contact us now to see how we can help you create the payment infrastructure your marketplace deserves.
The top 4 marketplace payment providers in Australia
1. Zai
Since we're the ones writing the article, we thought we'd start with ourselves.
Zai is a leading marketplace payment provider of API-powered payment solutions designed for tech-minded companies in Australia. Our key features include:
Accept card payments and more. As a merchant account provider, Zai can help you accept and process card payments. We can also connect to the payment gateway for you, so you don't have to worry about adding another payment provider to your tech stack.

Access to a full suite of powerful APIs. You can tap into a broad ecosystem of payment tools while keeping software development and maintenance costs down with Zai.

Support from a local team of payment-tech experts. We first learn about your product and payment needs, then design a bespoke solution for your business model.

10+ years of expertise operating in Australia. We provide market insights and popular international and local payment methods, such as BPAY, to help Australian marketplaces grow.

PCI DSS Level 1 compliance so you can add secure payments and financial products to your online marketplace platform. As a regulated payment service provider (PSP), we can help you meet international compliance and safety standards without you needing to apply for certifications directly.

Built-in fraud protection and anti-money laundering (AML) & know your customer (KYC) checks to reduce risk and make your multi-party transactions more secure.
Here are the advantages of using Zai's online payment gateway and API solutions for your marketplace:
Connect to many payment APIs through a single, lightweight integration
You can access our payment ecosystem through a single RESTful API connection. Once integrated, you can tap into multiple payment APIs and tools to craft the customer experience you envision.
We built our API with developers in mind so they can spend less time troubleshooting code and more time building great products. Our API reference guides and sandbox make it easy to test and deploy new payment product ideas.
When onboarding a new marketplace, we first sit down with your product and tech teams to learn the ins and outs of your payment needs.
From there, our experts get to work designing a payments orchestration solution built around your goals. Once you're satisfied with our proposal, we collaborate with your tech team to get you up and running. After you launch our solution, we're there to support you as you grow.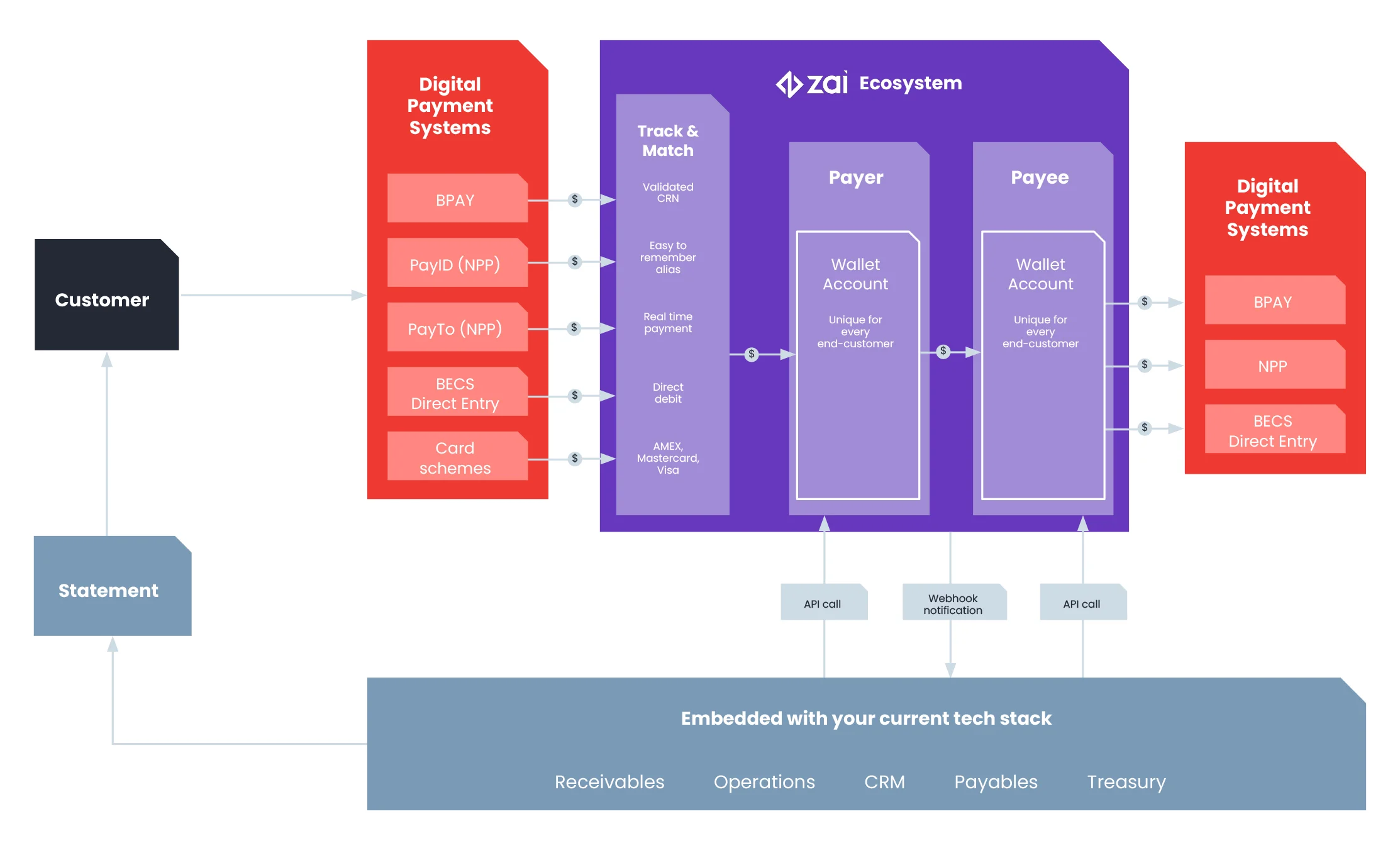 Want to see the nuts and bolts of our API? Visit our documentation here.
Accept multiple payment methods through our payment gateway
Our API solutions include a single marketplace payment gateway to many payment options preferred by the Australian market, including:
With Zai's payment gateway, you can manage collection and disbursement between multiple parties with payment methods of their choosing. You can offer your buyers a global standard like payment cards as well as an Australian-specific method, like PayTo, for instant account-to-account bank transfers.
Automate real-time payments for time-sensitive marketplaces
Not only can we offer you real-time payments through NPP rails, but you can automate the movement of funds instantly with our payment solutions.
Zai's payment infrastructure offers unique wallet accounts, which enable your customers to transact with each other in real time, so funds change hands at the same time that goods and services do. This feature is especially useful for time-sensitive marketplaces like food wholesalers, ride-sharing platforms, and delivery apps.
Find bespoke solutions to complex multi-party payment flows
Zai's payment tools don't merely help you move money in and out of your marketplace. With Zai, you can revolutionise your entire payment journey, especially if your marketplace manages multiple parties. Our solutions include:
Creating automatic payment orchestration that can instantly split payments and deliver funds to multiple parties.

Allocating funds and using simplified float management. You can set up a "float wallet account" to maintain a balance of funds and do payouts as needed. For example, you can accumulate funds in a float wallet account before paying out your sellers. Or you can have buyers top up personal float wallet accounts for future use on your marketplace.

Tracking transactions with real-time notifications thanks to webhooks. You can stay up to date automatically on the movement of funds without having to lift a finger.

Automating reconciliation for both sellers and your in-house teams. We process transactions individually, so each payment is easier to track and match. You can also use virtual accounts (with dedicated account and BSB numbers) to enable automatic reconciliation for incoming payments from NPP rails or bank accounts.

Managing transactions through a reporting API or from a dedicated dashboard (or both). You can integrate Zai's payment data to your business intelligence applications and tech stack for easier reporting. Our cloud-based dashboard will also enable you to view payment history, real-time transactions, and issue refunds.
Tap into fraud and risk management for greater security
With Zai, you can keep your customers safe and reduce chargebacks. We are PCI compliant (Level 1) and offer 3DS2 authentication for your card payments.
You'll also benefit from our enhanced customer verification, continuous transaction monitoring, fraud protection and AML checks, no matter the payment methods you work with.
How our marketplace customers use Zai
To understand how our payment solutions work for marketplace businesses, here are a couple of examples.
Take Ordermentum – a leading order management platform for the Australian hospitality industry. We created payment solutions that helped them scale their company.
With Zai's payment solutions, Ordermentum could:
Provide their buyers and sellers with multiple payin and payout methods best suited to their individual business needs.

Create instant payments between buyers and sellers that quickened the sale of perishable goods.

Enable their restaurant and hotel buyers to top up individual wallet accounts to make purchases at a moment's notice.

Lower the fees for all end customers (and boost margins) by consolidating their payment rails into a single online payment service.

Zai's solutions can also work for other types of marketplaces, like gig economy platforms. These marketplaces often have to deal with many moving pieces that act as payment touch points, from service providers like restaurants to intermediaries such as tradies or drivers.
Our tools can help these platforms improve their customer experience (CX) and product offering by:
Enabling end customers to purchase services with their preferred payment method.

Automatically splitting funds and allocating them into unique wallet accounts for each service provider.

Scheduling the disbursement of funds according to their business model (i.e., once service providers complete their tasks and all parties are satisfied).

Disbursing funds according to the stipulated payment method (i.e., direct credit, wire transfer).
Who does Zai work best for?
Zai works best for marketplaces:
With complex payment requirements, including multiple payment options and parties, like multi-vendor marketplaces.

Wanting to provide their end customers with more payment methods.

In fast-moving industries where transactions between multiple parties need to clear instantly.

Needing bespoke payment solutions that out-of-the-box alternatives can't easily provide.

Such as innovative startups that want to disrupt the industry and create revolutionary solutions for their customers.
Zai may not be the best fit for non-tech marketplaces that have limited payment needs and are looking for single-party payment solutions or simple payment gateways.
Zai is best for multi-party marketplaces with complex payment needs. While we're happy to help smaller marketplaces and e-commerce platforms that support physical retailers (and that primarily transact with payment cards), other marketplace payment providers might be a better fit for you.
Ready to see how Zai can help you? Let's chat. Contact us today to learn how to get started.
2. Stripe
Stripe Connect is one of the fastest-growing global marketplace payment providers.
Features:
International payment options.

Supported in 35+ countries.

Can payout to 50+ countries.

Fast integration.

API and out-of-the-box solutions.

Onboarding, verification and payout functionalities.

Built-in compliance.
Who are they good for? Marketplaces that want to get set up quickly and have plans to go global.
Have already worked with Stripe and are looking for other solutions? Check out the best Stripe Connect alternatives.
3. Novatti
Novatti is an Australian payments company aimed at helping brick-and-mortar businesses build an online sales channel. It focuses on translating the physical point-of-sale (POS) experience into an online one.
Features:
Mobile POS payments.

Card payments, PayPal, and Apple Pay.

API solutions.

Merchant acquiring.

Fraud protection.

Dedicated merchant portal.

Transaction-fee pricing.
Who are they good for? Brick-and-mortar companies that want to develop into an online marketplace.
4. Adyen
Like Stripe, Adyen is a global payment provider. Unlike Stripe, which focuses on e-commerce, Ayden looks to unify the payment experience across all channels, both physical and online.
Features:
Credit and debit card payments.

Mobile, online and in-person payment solutions.

Available in 33+ countries.

Onboarding, verification and payout functionalities.

Real-time notifications.

Dedicated dashboard for tracking and reporting.
Who are they good for? Like Novatti, Adyen is a better fit for physical companies looking to get into e-commerce.
How to choose a marketplace payment provider: 6 questions
Can't decide which payment service provider is best for your marketplace? These questions can help inform and guide your research and lead to better decision making.
1. Does the payment provider understand how my marketplace works?
Googling "marketplace payment providers" will get a lot of results. However, many of the marketplace payment gateway companies that appear in the search results don't have the right products and services for complex payment solutions that growing marketplaces need.
Knowing if the payment provider is more suitable for single-party or multi-party marketplaces will tell you how much complexity their solutions can handle.
One way to discover the type of marketplaces a provider is most suitable for is to check under the hood to see what services these payment processors can offer. Looking at the technical docs is a great starting point.
2. Does their payment gateway accept my customers' preferred payment methods?
Card payments can get the job done, but it's no secret they aren't a great fit for many marketplace owners. For one, credit card fees eat into valuable margins. Second, the long payment processing times are poorly suited to high-transaction business models.
Look for a marketplace payment gateway with the payment methods and flexibility you need to ensure both your buyers and sellers can operate smoothly on your platform while you protect your bottom line.
3. Can they help me manage worst-case scenarios safely?
It might not always be comfortable to do so, but reflecting on your business risks while looking for marketplace payment providers will help you make better decisions.
Some of the common risk assessment questions we've heard from our marketplace clients include:
What happens when a payment from a buyer goes through, but the product doesn't arrive? Are you able to easily hold the funds or compensate the buyer? Or do you need to contact multiple financial entities to reverse the transaction?

What happens when someone wants a refund? If a buyer is unsatisfied with the product or service they purchased, they could be entitled to a refund. Getting that money back from the seller and into the buyer's account is a huge part of the customer experience. It can become detrimental to the marketplace's brand reputation if it takes too long or requires contacting multiple parties to recapture those funds.
4. What in-house payment tasks can I shift to the provider?
Whether it's your back-office, customer service, accounting or IT department, your employees' time is incredibly valuable.
By outsourcing those tasks to your payment provider (either through consulting, tech, automation or a combination of all three), you can redeploy your talent pool to more value-driven activities. To do so, though, you need to select the top marketplace payment provider most suited to the task.
5. Can this provider scale with me?
It's often tempting to go with an easy short-term payment solution.
Yet, doing so often comes with a high cost later when your marketplace outgrows its payment solution. It's helpful to sit down with your product strategists to see how your roadmap aligns with the payment provider you're examining.
6. How well can our developers use the payment provider's tech?
Ultimately, your developers will know how well-aligned the payment gateway's tech is to your system because they'll have to build around their infrastructure.
Depending on the needs of your marketplace, you'll need either bespoke support from the provider or a unilateral build of your solution. In the latter's case, if the provider pushes through an update, there's a chance it could break your payment system, creating a massive headache for you.
Frequently asked questions
What is the best payment method for a marketplace?
The best payment method depends on your marketplace's business model and your customers' payment preferences. For example, if speed is a factor, offer real-time payments with PayTo, an instant account-to-account payment method that you can use for ad hoc, one-off or recurring payments.
What's the difference between a payment gateway and a payment provider?
A payment gateway is the technology that enables the transfer of card payment data between the merchant and the card issuer.
A payment provider enables merchants to accept multiple forms of payment. Some providers like Zai offer additional payment tools, such as access to a payment gateway, API solutions to automate the splitting and disbursement of funds and more.
Why have a marketplace payment solution in place?
Having a payment solution in place means your vendors can quickly sell their goods or services on your marketplace without the need to process payments themselves. You'll be saving them valuable time, expenses and hassle of setting up their own merchant account.
Try Zai as the payments solution for your Australian marketplace
As one of the top marketplace payment providers, Zai has been helping some of the best-known Australian marketplaces grow and succeed for years. Our payment solutions give online marketplaces like yours the flexibility to build your platform the way you want, and not build it around your payment providers' pre-defined rules.
We're ready to help you build your own payment infrastructure to be successful from the ground up. Contact us today to speak with one of our payment experts about creating the payment solution your platform deserves.
This information is correct as of July 2023. This information is not to be relied on in making a decision with regard to an investment. We strongly recommend that you obtain independent financial advice before making any form of investment. This article is purely for general information purposes.
Sources:
https://stripe.com/en-gb-it/connect/marketplaces
https://www.adyen.com/platform-payments
https://novatti.com/acquiring/