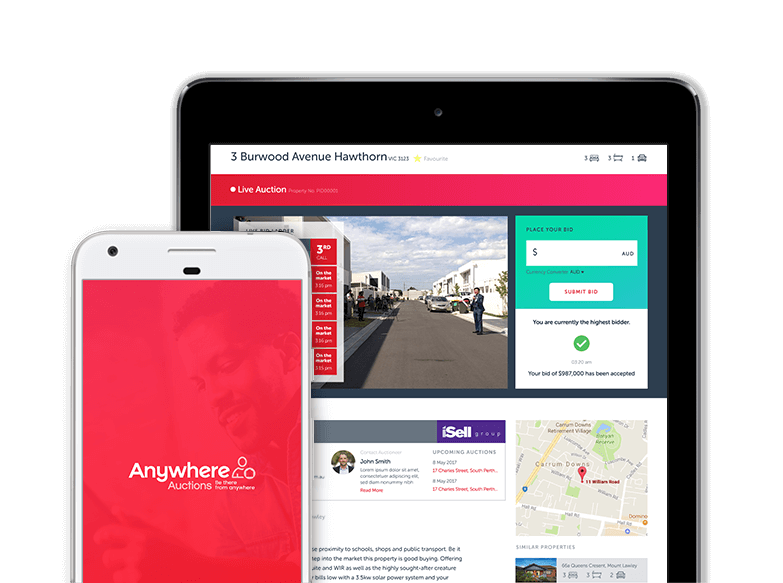 Anywhere Auctions gives people who want to attend or bid in a property auction a practical way to do it remotely, when distance or other factors keep them from being there in person. Anywhere Auctions is a platform that blends the excitement of auction bidding with registration that is easy and safe, and expands the auction experience for potential bidders.
The challenge
To expand property auctions through a platform that enables people to attend and bid remotely. Because real estate purchases can be risky, the bid acceptance processes and systems needed to be reliable, secure and problem-free.
The outcome
Launched in 2019, Anywhere Auctions allows people to watch and bid on real estate even when distance, time, or other factors keep them from being there in person. Auctions are streamed live, and bids from pre-approved buyers are placed through the platform and passed on directly to the auctioneer who can accept bids both in-person and online via the platform.
From the day it launched, Anywhere Auctions has chosen Zai as its partner to manage all payments. That partnership has brought with it:
High security and peace of mind for all stakeholders - sellers, buyers, and agents - with fast yet accurate identification verification.
A seamless user experience, without the need to register or transact on a separate platform.
Flexible and customisable payment workflows, with worry-free tracking and secure payment collection.
Since working with Zai, Anywhere Auctions has seen a 200% growth in market share, making it the largest hybrid auction service provider in Australia.
About Anywhere Auctions
Auctions are as old as civilization itself, but they've always had an audience problem: potential buyers were limited by who was willing and able to show up at the right place and time. Bring on some bad weather or a day with lots of other auctions going on, and the price that sellers obtained could suffer.
By developing a proptech platform with live streaming and bidding, Anywhere Auctions helps agents draw many new participants to auctions. Garry Giritharan, co-founder and managing director of Anywhere Auctions, describes the service as a hybrid, allowing, "real estate agents to sell property on the auction floor and online at the same time." This capability maximises turnout: "for those who cannot attend, we allow them to watch a live stream of the actual auction so they can see and hear everything that's going on."
In other words, the company fulfils its promise to let you "be there, from anywhere."
Why Anywhere Auctions chose Zai: flexibility and nimbleness
As property investors themselves previously, the Anywhere Auctions' founders spent more than two years building their platform, working to solve a multitude of pain points, including the inability to attend an auction in-person. Having to work over the weekend, auction sites located in remote areas and pandemic lockdowns are just some of the reasons why consumers aren't able to attend in person, but that also means they could be missing out on great opportunities.
They wanted to venture into online streaming and bidding, which seemed like a great solution - but due to it being new in the market, they struggled to find innovative and flexible payment solutions from financial institutions and payment gateways.
Anywhere Auctions needed something more than a cookie-cutter solution. According to Giritharan:
"Off-the-shelf products weren't necessarily going to cut it for us because we were coming up with something innovative. It was something that hadn't been done before."
What sold them on Zai, according to Giritharan, was "flexibility and nimbleness, which allowed us to move quickly. Zai was far and away the most agile and supportive." Apart from a customisable and flexible payments platform, "Zai also provided us with excellent customer support and communication at all times of the day, and in certain situations, as quickly when we needed it," he explained.
Baked-in security and peace of mind for all stakeholders
With new technology solutions where a lot of money is involved, one major concern was security.
Anywhere Auctions partnership with Zai allows a rigorous but simple payment process for approving bidders. One component is a small pre-authorisation on a credit card, along with a fraud check on the card, to ensure that all bidding is in earnest. For the winner, the pre-authorised amount automatically becomes part of their deposit, which ultimately goes to the seller.
How Zai helped drive Anywhere Auctions growth
By using Zai's payment platform, collection of payments is automated, which saves Anywhere Auctions team the need for additional headcount for manual reconciliation, or the need to have a dedicated credit department. This enables them to allocate their employees to more value adding tasks, which is helpful for small but expanding businesses where resources are limited.
Anywhere Auctions arrived on the market at the right time. As Giritharan points out,
"hybrid property auctions, ones with an online component, is what consumers have come to expect."
Agents and buyers alike now see proptech innovation such as the Anywhere Auctions platform as essential components of providing good customer service rather than nice add-ons.
The pandemic, of course, has only sped up this change, as lockdowns and general concerns about social distancing have either cut down on the attendance at in-person property auctions or prevented them from occurring at all. Collaborating with Zai has allowed Anywhere Auctions to provide an innovative hybrid property auction model to consumers and as a result of its popularity, Anywhere Auctions has serviced over 15,000 real estate sale transactions, making it the largest hybrid auction service provider in Australia.