The UK rental market is booming. With growing demand, rent prices are rising and there is a need for more stock. According to research by Homelet, the UK's largest tenant referencing and specialist lettings insurance company, in December 2021, the average UK rent was £1,060 per calendar month, up 8.3% from the previous year. In 2021, the landlord population of the UK exceeded 2.65 million people. Homeownership is falling while the number of people renting continues to rise. Investors poured £4.1 billion into the UK's build to rent (BTR) sector in 2021 with more than half of that spent in the fourth quarter.
With corporate landlords bringing purpose-built blocks of flats onto the market and around half of all landlords owning more than one property, landlords and letting agencies need intelligent solutions to manage rentals efficiently and provide a better experience for tenants. The rental journey has become increasingly complex with many processes and touchpoints along the way. From vetting tenants and setting up rental agreements, to managing payments and property maintenance, it is the property technology (proptech) industry that is supplying the solutions to meet these challenges.
While in the past, traditional rental property management involved a vast amount of paperwork, today, technology can automate a lot of these repetitive administrative processes, reducing the time and effort involved for both landlord and tenant.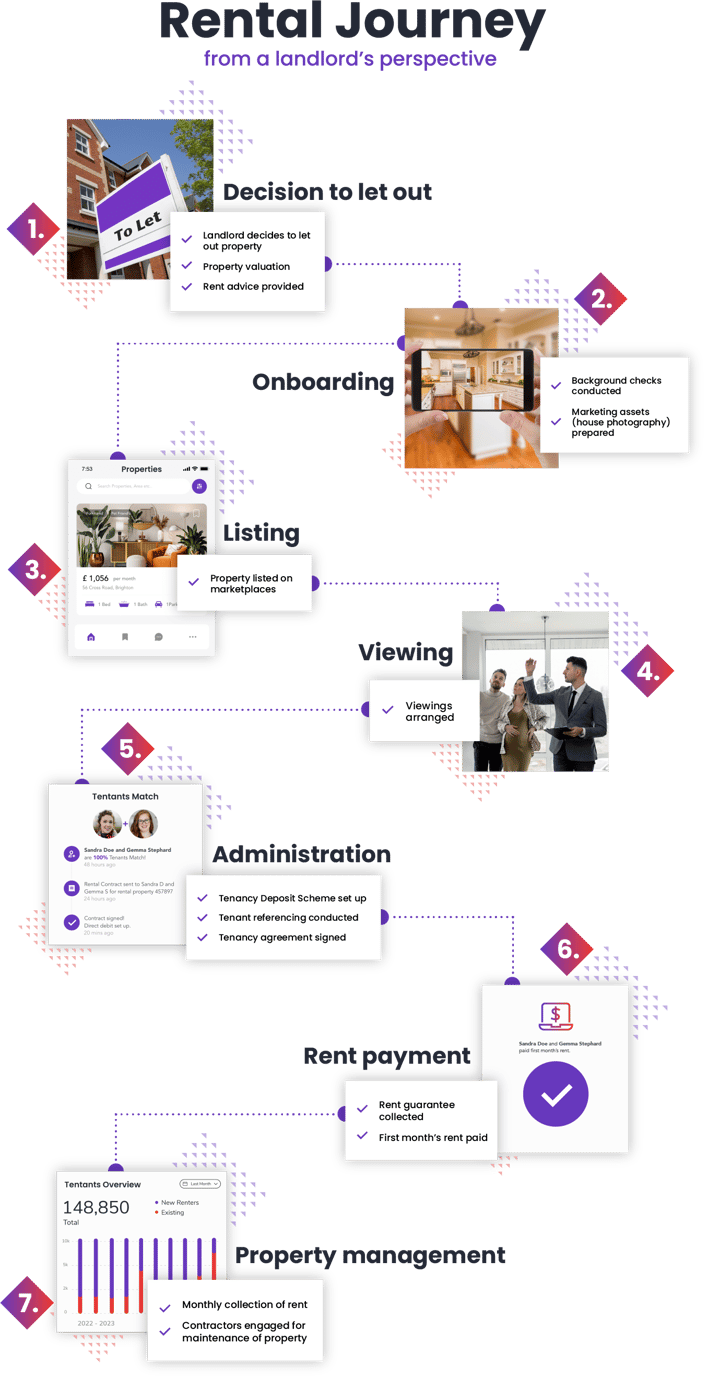 Proptech UK - reinventing renting
As we can see, there are many points in the rental journey where proptechs are creating solutions for letting agents, property managers, landlords and their tenants. These companies are providing products for a diverse range of processes in the rental market from valuations and property listings to tenant referencing and payment collection. Some offer solutions that cover the entire rental journey. We've already looked at Rentify and Canopy in this article and Howsy here.
Here, we'll look at some of the innovative solutions proptechs have developed to solve specific pain points along the rental journey.
ideal flatmate - tenants that get along
Co-living is on the rise. In London, co-living lettings rose month-on-month between May and July 2021, finishing the period up 36%. While referencing and vetting tenants has always been an important consideration for landlords, finding the right renter is more challenging when it comes to matching tenants with other flatmates, or with live-in landlords. ideal flatmate has developed its platform with the aim of matching the right types of tenants in shared properties. It's a good example of how proptechs are developing new solutions to meet market trends, such as the growth in co-living within the rental market.
Reposit – who needs a rental deposit?
As rents have increased, so has the amount of the tenancy deposit required to rent a home, taking some rental properties out of the reach of good tenants. Reposit has a solution that allows properties to be let on a deposit-free basis, thereby increasing demand for properties. The renter pays just a fee of one week's rent upfront, while the landlord is protected for eight weeks of rent. Reposit does this by providing a guarantee underwritten by a leading insurer and protected by the Financial Services Compensation Scheme (FSCS).
RentProfile – onboard tenancies faster
One proptech startup, RentProfile, believes that faster, easier, onboarding is crucial when it comes to improving the tenant experience and may reduce the incidence of rent arrears, as the use of Open Banking means that agents and landlords don't have to rely on the tenant to set up a standing order. RentProfile's digital platform accelerates onboarding processes, such as tenant applications and referencing, right through to the digital signature required for the tenancy agreement. With repetitive administrative tasks automated along the way, RentProfile claims that a tenancy completion can be set up in minutes instead of days.
Fixflo – fixing maintenance issues
Landlords still have responsibilities after a tenant is onboarded. One of these is property maintenance, which can be time-consuming and costly for landlords. Fixflo's offering comes in an app that gives tenants tips on how to fix simple problems themselves, while reporting more complex issues to landlords who then use the app to brief contractors.
DemandLogic – reducing energy costs
DemandLogic is one of a new breed of building management proptech. It is a software tool that provides intelligence to landlords and building managers, via heating, ventilation and air-conditioning (HVAC) systems and internal environmental sensors. As a result, building managers can optimise building performance, reduce energy and maintenance costs, while improving comfort for residents.
RentOnCloud – connecting landlords, tenants and tradespeople
New proptech start-ups are still entering the market with solutions that cover more than one part of the rental journey. RentOnCloud aims to bring tenants, landlords and maintenance service providers together on a single digital platform without the need for a letting agency, which can be costly for both the tenant and landlord. For landlords, the service includes end-to-end property management, including listings, references and rent collection, while tenants benefit from landlord screening, as well as the ability to manage rent payments and report maintenance issues. Trade service providers can showcase their work, provide quotes and get paid via the platform
The evolving UK rental landscape
Evolving trends in the rental market mean that many agencies and landlords are re-evaluating the technology they use to solve challenges, let their properties quickly, and provide a better experience for tenants. What all these proptech platforms have in common is the need to manage payment flows to parties involved along the rental journey.
At Zai, we manage your payments for you, so you can focus on running your business.
Our APIs simplify complex payment flows, helping your business operate more effectively by saving you time and money. We give you a stable, scalable platform so you can handle large transactions reliably as your business grows all while maintaining maximum compliance.
To find out more about proptech platforms revolutionising the rental journey, download the following Zai guide.