There's no doubt that Covid-19 and social distancing have permanently transformed the UK payments landscape. After the third lockdown ended in March 2021, people returned to shopping in physical stores and visiting pubs and restaurants, but they continued to prefer contactless payments.
As a result, the number of contactless payments surged by 36% in 2021, according to UK Finance, and were used for more than one-in-three payments. While this is a significant change from before the pandemic, when one-in-five payments were contactless, the pandemic has only served to accelerate a trend that was already underway thanks to the UK's advanced payments infrastructure.
From January 2020, every bank-issued payment terminal in the UK was capable of accepting contactless payments, while the limit for contactless card payments increased to £45 at the start of the pandemic and rose further to £100 in October 2021.

Of the 157 million debit and credit cards in circulation at the end of 2021, 142 million or 91% had contactless functionality, up from 82% at the start of 2020.
While digital wallets, such as Apple Pay, Google Pay and Samsung Pay were widely accepted before the outbreak of Covid-19, public acceptance of the technology has gained significant momentum during the past two years.
Cheque clearing completed the shift from paper to digital imaging in 2019, while the Faster Payment Access Programme launched in 2014, allowed non-bank payment service providers to directly connect and settle real-time payments.
Online retailers were also able to respond quickly to the pandemic, thanks to the UK's well-established logistics sector and good transport infrastructure. Online card payments made up 11% of all payments in 2021, up from 7% in 2020.
The end of Covid restrictions has seen a shift from online to contactless payments as life returns to normality, as well as a small bump in the use of cash. In the summer of 2021, ATM network, Link, asked people about their use of cash, when 33% of people said they had not used cash in the past two weeks. That figure had fallen to 27% by January 2022.
The newest form of payment to be recognised in official statistics is buy now, pay later and bank/retailer financing at the point of sale, which increased to 5% of payments in 2021, up from 4% in 2020, which was the first year the data was recorded.
Cards
Card transactions rebounded significantly during 2021, both in the value and volume of transactions. There were more than 20.5 billion card payments during the year, up 18% from 2020, while the value of card transactions increased by 12.5% to £790bn, according to UK Finance, the trade association for the UK banking and financial services sector.
Debit cards were responsible for most of the growth in the number of card payments, increasing by 21% to 17.5 billion. This was accompanied by a fall in the average value of transactions on debit cards to £34.50 in 2021 from £37.10 in 2020. The average value of credit card transactions increased during the same period to £56.20 from £53.60.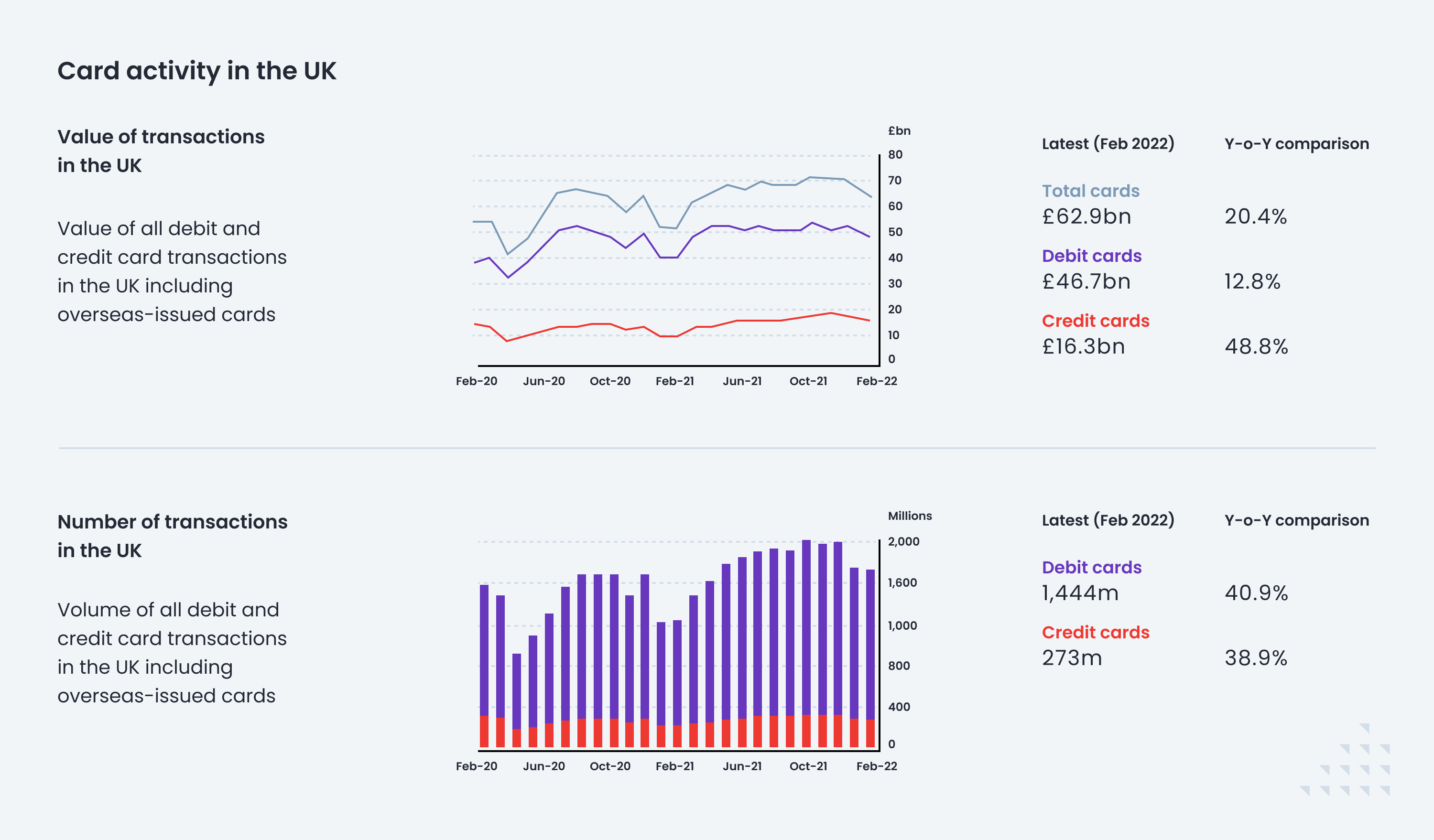 Another notable trend in the aftermath of the pandemic has been a surge in the use of contactless payments as people return to physical stores. In 2021, the volume of contactless payments increased by 46% to £166bn to make up 21% of all card payments. Online card payments grew by 15% to £289bn and comprised 37% of card payments.
The total number of cards grew by 1.1% to 157 million during 2021, though this small change masks a relatively large shift in the share of debit cards to credit cards. In 2020, debit cards made up 59% of the market, but in 2021 this share increased to 62%.
ATMs
The number of cash machine s in the UK has been falling since 2017, though the number of ATMs on the Link network remained stable in 2021. At the end of the year, there were 53,400 machines, which was roughly 500 machines fewer than at the start of the year.
Between July 2018 and February 2022, the number of ATMs in the UK fell by 12,968 or 20%.
"ATM use will never return to pre-pandemic levels," according to Graham Mott, director of strategy at the Link ATM network. "People who perhaps were using less cash generally are now entirely comfortable using their phones or contactless."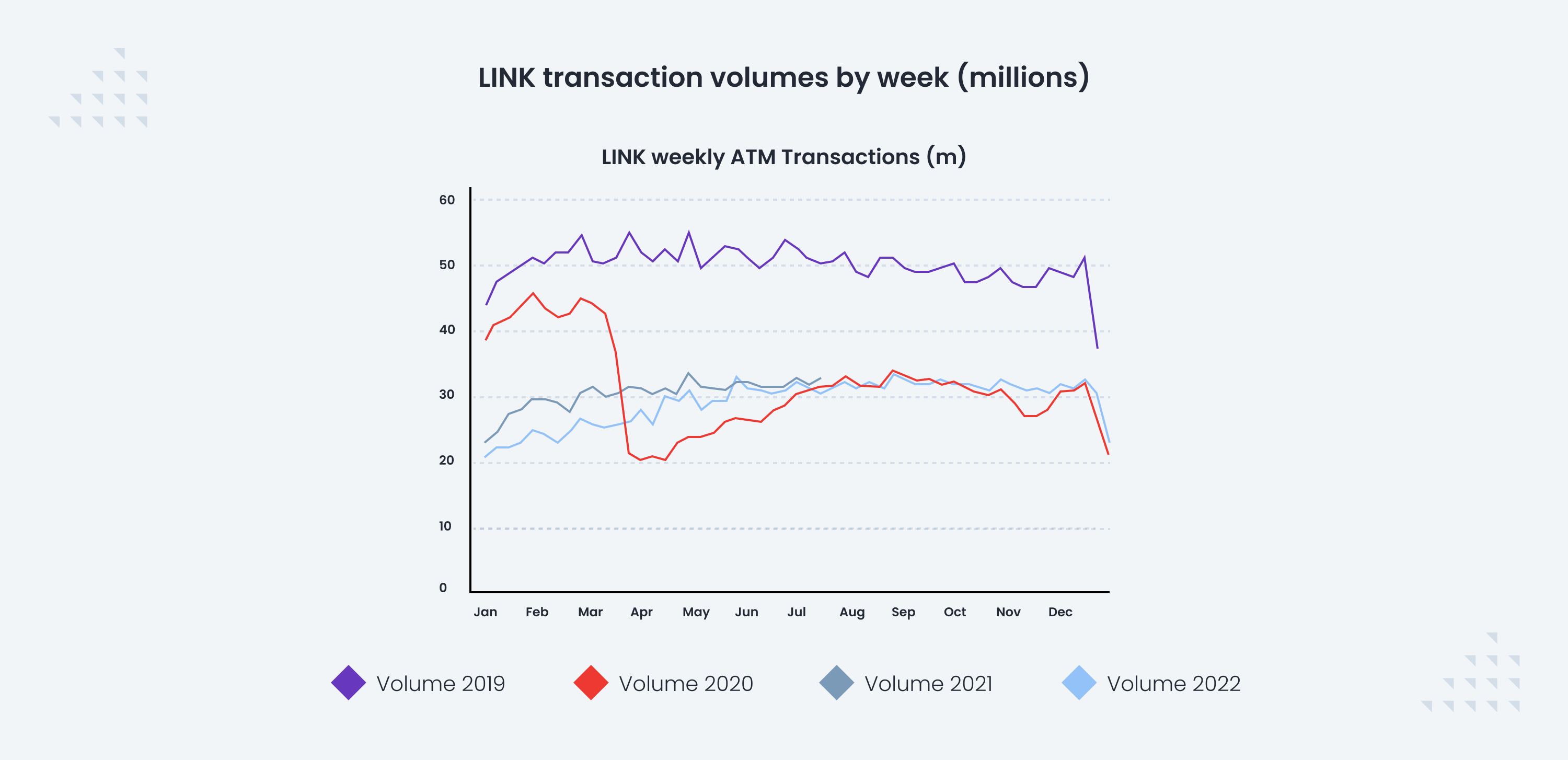 Faster Payments
Real-time payments using the Faster Payment Service (FPS) reached a record in 2021, according to Pay.UK, the operator and standards body for the UK's retail interbank payment systems. The number of payments processed increased by 20% to 3.4 billion, while the value of payments rose by 24% to £2.6tn.
FPS is the only true real-time payment scheme in the UK. It allows payments of up to £1m (increased from £250,000 in February 2022) to be sent instantly through multiple channels, including online banking, mobile banking apps, telephone banking and over-the-counter.
At the end of 2021, there were 38 banks and other directly connected participants providing access to FPS.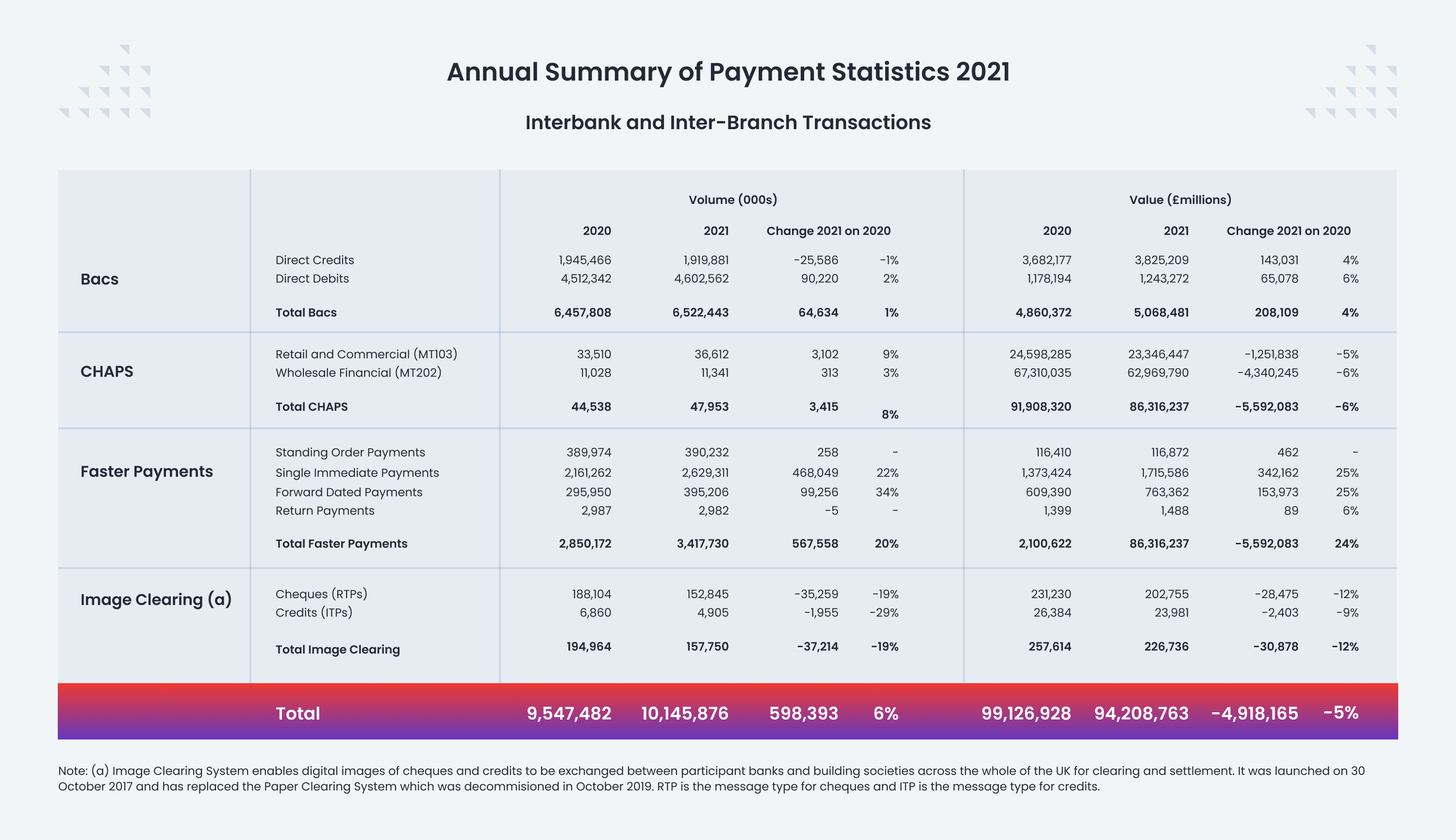 Cash
Cash payments continue to decline, making up 17% of payments in 2020. As recently as 2010, cash payments were more than half of all payments in the UK. Even before the pandemic, debit cards had displaced cash as the most popular form of payment.
Cash withdrawals recovered slightly after the second lockdown at the end of 2020, but the total value and volume of withdrawals in 2021 was lower than in 2020 as the preference for cash has fallen. The ATM network still averaged £1.5bn of withdrawals a week in 2021, but this is down from more than £2.2bn in 2019.
Cheques
The use of cheques in the UK fell dramatically during the pandemic as customers moved to electronic payments. Cheque volumes dropped 40% during the national lockdown in 2020. In 2021, the value of cheques processed through the image clearing system fell by a further 12% to £202bn.
However, 44% of current account holders still write at least one cheque a year, according to a survey published by Pay.UK in January 2022. Even among the over-65 age group, the number of people still using cheques occasionally is just 55%, down from 72% in 2014.
Businesses are more likely to write cheques, with 78% saying they write at least one cheque a year. On average, businesses write eight cheques each year.
Fraud
Criminals stole more than £1.3bn through fraud and scams in 2021, according to UK Finance. Theft from unauthorised fraud, where the account holder doesn't provide authorisation and the transaction is carried out by a criminal, was £730m. Authorised push payment (APP) fraud, where customers are tricked into authorising payments, was £583m.
There were 200,000 incidents of APP scams in 2021, involving £215m lost to impersonation scams, where criminals impersonate organisations, £172m lost to investment scams and £64m in purchase scams.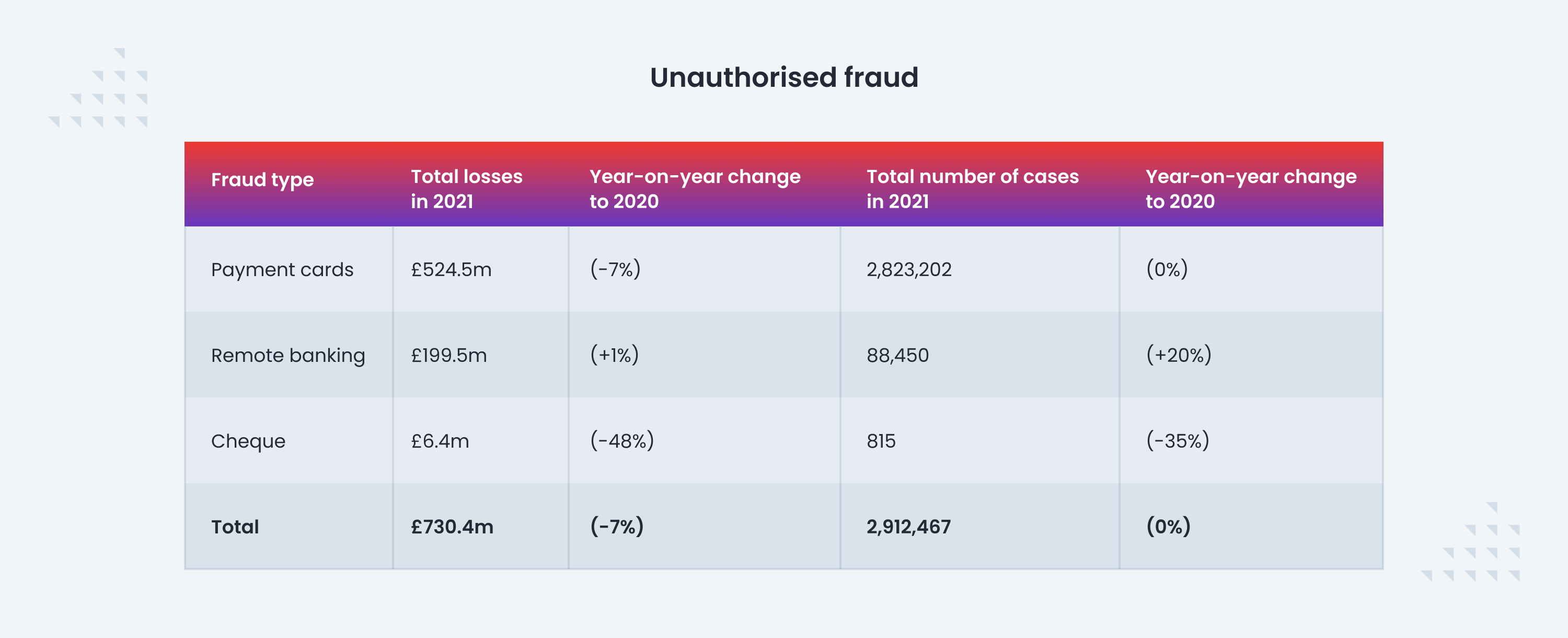 For more information on the payment service offered by Zai, contact a representative here.