You might be just starting out and looking for a payments service provider, or perhaps you're unhappy with your current solution and are looking for a better alternative. Specifically, you might be:
Needing a payment partner that provides more than just the bare minimum.

Having trouble finding a payment solutions provider that can help you accept specific payment methods (e.g., credit cards, BPAY or PayTo).

Looking for a customer-focused payment partner without communication barriers that can help you bring your payment vision to life.
In this article, we'll cover:
Are you looking to get started with a payment service provider right away? At Zai, we help businesses set up a payment workflow that works best for them. Get in touch now to learn more!
The top 5 payment service providers in Australia
Here are some of the payment providers you might consider, along with their features and benefits:
1. Zai
Since we're writing this article, we thought we would start with ourselves.
At Zai, we offer a full suite of payment service options and act as a payment partner that can help you scale and grow your business. Our powerful set of solutions enables you to:
Collect payments through methods your customers are already comfortable with (e.g., BPAY, credit cards, debit cards).

Make payouts to banks or stakeholders through their preferred payment methods (e.g., real-time bank-to-bank transfers via the NPP).
We have 10+ years of expertise as a top payment service provider. With our suite of RESTful APIs, built to satisfy even the most complex of business models, you'll be able to handle payins and payouts through multiple payment options without having to work with multiple providers. Consolidating your payments by switching to one service platform will not only make your reconciliation, administration, and reporting easier, but it will enhance your end-customer's experience.
Here are the benefits of working with Zai as your full-suite payment service provider:
Receive payins and make payouts with several payment methods, including those specific to Australia
Most payment service providers only specialise in a handful of payment methods. And for those they offer, you'll have to integrate each one separately.
With our APIs, you can accept several payment options with a single integration.
We have a fully integrated and comprehensive payment processing ecosystem, which allows us to offer a wide range of payment options. Among those are:
Major credit cards (Visa, Mastercard® and American Express).

Debit cards.

NPP real-time payments, including PayTo.

Direct debits.

BPAY.

Wire transfer.
As a payment orchestration company, we can set up a fully automated solution tailored to meet your current payment set-up or future requirements.
Our RESTful APIs enable you to plug into multiple payment methods and reconcile at the same time because our APIs keep a log of transactions cross-referenced with your customer's data. Instead of uploading ABA files to your online banking or trying to manually reconcile transactions, you can use our always-active webhooks to notify you when you receive payment. You can also create set-and-forget automated rules for a received payment, so you can instantly move funds to meet your business needs or customer requirements.
And if you're looking to disburse payments, you can choose to do it in a completely different payment method. For example, your customers can payin via direct entry, but you can choose to disburse payments in real-time via the New Payments Platform (NPP).
By automating your entire payment system with Zai, you can minimise human error, save time and reduce overhead costs.
Get a merchant account and a payment gateway connection with one payment service provider
Zai doesn't stop at enabling you to receive multiple payment methods. Our full-suite offering includes merchant accounts and a payment gateway connection, both ideal for helping new online marketplaces and platforms get set up to start accepting payments.
You'll have affordable card transaction fees via our payment gateway:
1.5% + AUD 0.16 on domestic debit and credit card transactions.

2.8% + AUD 0.16 on international card transactions.

Bespoke fees for high volumes, high-value transactions, or companies with unique business needs.
Rest assured your payments will also be safe with Zai, because we've built in automated fraud protection, prevention and compliance measures, such as:
Fully PCI DSS compliant Level 1 Service Provider.

Transaction screening and monitoring.

Multi-layered fraud solution, backed by partner data from 40 billion annual transactions.

Dispute & chargeback analysis and investigation.

Coming soon: 3D Secure 2.0.
Our card and digital payment offering is also always evolving. This year we'll soon provide you with payment collection via popular digital wallets, such as Apple Pay® and Google Wallet®.
Split payments, manage multiple parties, manage risk, and much more
At Zai, we specialise in helping companies with complex payment needs set up a custom payment flow that fits their business model. With Zai, not only will you be able to accept payments, but you'll also be able to:
Create individual wallet accounts so you can easily track, hold, divide, move, match and reconcile funds.

Set up a unique PayID for each customer's account for instant reconciliation and improved customer experience.

Split payments, allowing for instant fund transfers to multiple parties, automatically.

Create risk rules and block lists for fraud protection and fraud prevention.

Manage risk with our platform's built-in anti-money laundering (AML) and know your customer (KYC) controls.

Capture secure payments with our customer payment authentication and transaction monitoring features.
Our comprehensive payments platform enables us to work well with online marketplaces and platforms, such as proptechs, fintechs, and remitters. With Zai, you can have one party send a payment, which you can then split with other people in the chain who need to interact with that payment.
For example, a proptech marketplace can use split and multi-party payments to divide payins received and automatically send payouts to compensate the rental agent, cover building fees, route funds to third parties, and collect their own fees.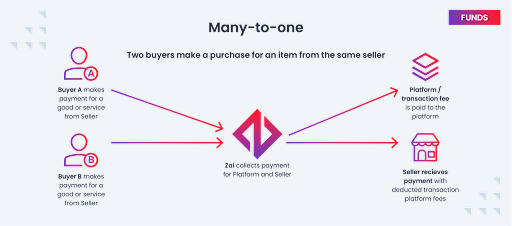 Want to take a look under the hood? Check out our technical documentation for further info or speak to one of our experts.
Get a bespoke solution through the help of seasoned experts
Rather than sell a product that has to be forced to meet your needs, we instead listen carefully to your problem to create a solution based on your business model.
Our team has over a decade of experience in payment services here in Australia and will guide you through a thorough onboarding process to ensure we can provide the services you require.
When we work with you, we scope out your requirements as soon as possible, so we can give you an answer quickly. Our team is always ready to take on a challenge with new technology and facilitate payments for online businesses that have unique challenges, such as cryptocurrency platforms, B2B marketplaces, new technology companies, and innovative startups.
Work with a localised team that has 10+ years of experience in Australia
Some payment methods, like credit cards, are designed to work all over the world. But each country has its own pricing, financial and legal frameworks, regulations, and licensing requirements. Australia also has its own unique payment rails, such as the NPP.
We are licensed in Australia, our experts are Australian-based and we have more than 10 years of experience operating in Australia. This means we understand the payment culture, are available in your time zone and work with preferred local payment methods.
We're also one of the first payment platforms providing API access to PayTo – the new real-time data-rich direct debit service that operates on the NPP.
Who is Zai suited to?
Zai would best match with companies that are:
Tech-oriented with unique challenges that need customised solutions, whether due to innovation or having faced previous issues with other payment service providers.

Growing and fast-paced, with the need to accept and disburse funds via multiple payment methods.

Online platforms and marketplaces that want to accept payments through major credit cards while consolidating their payment providers into one solution.

Located in Australia and looking for bespoke support from local experts.
Zai might not be the best fit for everyone, so we've included other payment service providers that might be worth considering:
2. Adyen
Adyen is a global company that aims to unify the payment experience with a focus on card payment processing. This unification means accepting cards both online and in person through a point-of-sale (POS) card reader in a physical location. The company primarily helps online marketplaces get paid for products and services.
Adyen's main features are:
POS terminals and mobile payment solutions.

A solution to receive card payments in any format.

Global presence and multi-currency support.
Adyen has experience supporting marketplaces around the globe and has an off-the-shelf solution for card payments. More complex workflows requiring multiple payment solutions might find a better match with a firm that offers more options.
Who is Adyen best suited for? Marketplaces that need relatively straightforward payment gateway solutions to receive card payments.
3. Zepto
Created in 2015 by online sellers, Zepto provides online businesses with the ability to access account-to-account payments. Like Zai, they offer automated direct payments through an API and allow for the transfer of funds.
Zepto's main features are:
Instant account funding through real-time payment.

Real-time payouts through the NPP.

An alternative to card payments because it supports direct debit and NPP payments.
Zepto uses an API that allows integration with existing marketplaces and data protection through encryption.
Who is Zepto best suited for? Online platforms that need to add direct payments to an existing solution. Since Zepto doesn't accept cards or provide access to a payment gateway, they'd be a better fit for companies that don't intend to use cards or already have a payment gateway solution for card processing.
4. Monoova
Younger than Zepto, Monoova is another Australian-based payment service provider focusing on instant payments, such as PayTo via NPP rails. Like Zepto and Zai, it also offers an API that automates payment flows through its payment methods.
Among Monoova's features are:
Real-time payments through NPP and PayTo.

Virtual accounts to segregate payments.

Unique PayIDs to facilitate reconciliation.

Automatic notifications when a payment is made.
Like Zepto, Monoova is also positioning itself as an alternative to collecting debit and credit cards payments, both of which it doesn't offer. Instead, it facilitates the payment of bills, sending payments to providers, and reconciling payables and receivables.
Who is Monoova best suited for? Tech-centric online firms who need a way to manage direct payments and who already have or don't need a card solution.
5. Square
Square is also a global, established payment company focusing primarily on physical card payment processing. It offers online payments but integrates with what is primarily an in-person commerce solution with POS terminals and mobile payments using a physical credit or debit card.
Among Square's key features are:
Retail management software to conduct business in-store and online and manage billing, payments and payroll.

Virtual as well as physical sales terminals.

Facilitates the development of customer service, including rewards programs.

Includes tools to manage a team and cash flow.
Square focuses on providing solutions for the retail segment, such as restaurants or beauty & wellness companies. It offers a wide range of payment methods beyond just physical cards, including mobile payment options, such as Apple Pay and Google Pay.
Who is Square best suited for? Square is an ideal payment processor solution for ecommerce companies that plan to open a physical outlet or any small business that has or is planning to have a physical store.
How Change 4 Change uses a payment service provider to do round-up payments
Change 4 Change is a charity-tech that lets donors sign up, link their accounts, and select a charity to contribute to in less than a minute. Change 4 Change offers a simple and secure way for people to donate spare change by rounding up purchases. Once a user reaches the $10 threshold, an automatic transfer donation occurs.
In the words of Change 4 Change's founder, Tim Millbank, "Our platform makes giving to charity a lot more accessible and fun, particularly for younger generations who are comfortable with using technology to manage their lives."
Zai partnered with Aussie social enterprise Change 4 Change to bring a tech solution to giving and supporting causes that are meaningful to people. Some of the high-impact charities include Cure Cancer, Thread Together, batyr and One Girl.
As one of the few payment providers offering direct debits through our API, we initiate a direct debit for the donation to the customer's nominated charity. The system has other features to help keep the customer in control, such as donation caps per month or the ability to pause roundups and all donations are tax deductible. Zai makes the entire customer experience seamless and automated, so customers can donate without worries.
"Working with Zai has been a joy – they treat us as a partner rather than a client, backing us to succeed," – Tim Millbank.
Read the full story here: Aussie charitytech, Change 4 Change, makes giving engaging and fun.
If you're looking for a bespoke payment model, let's talk
At Zai, we specialise in solving payment challenges with bespoke payment workflows. If you're looking to build a proprietary system or have a unique payment challenge to solve, then a payment service provider like Zai might be a good fit for you.
If you're looking for a payment platform that offers POS solutions and can work in person, then an alternative PSP like Square or Adyen might be a better option.
Ready to get started? Reach out to us to start implementing payments.
This information is correct as of January 2023. This information is not to be relied on in making a decision with regard to an investment. We strongly recommend that you obtain independent financial advice before making any form of investment. This article is purely for general information purposes.