If your healthcare tech is struggling to process complex payments, you may be looking for a solution to some current obstacles, including:
Having to use different payment service providers to offer your end customers the payment options they want.

Delayed payouts to your vendors because of batch processing and the inability to automatically split payments between multiple parties.

Spending too much time reconciling your payments, which results in overworked finance teams.

Not getting timely support that understands Australian business culture.
To help you understand how you can turn online payments from a pain point into a growth driver, we sat down with one of our healthcare payment solutions experts to understand how healthcare companies can make the most of payments. In this article, we'll cover:
Zai helps Australian healthcare providers transform the way they handle payments. Ready to make your payment infrastructure a driver of your success? Start the conversation now.
How Zai works as a payment solution for healthcare
At Zai, we specialise in helping tech-minded companies build bespoke solutions to their complex payment problems. We do so by leveraging our 10+ years of expertise with a powerful application programming interface (API) built on top of regulated payment infrastructure.
We use APIs to help you automate your complex payment workflows and access multiple payment methods. This means you can auto-generate a unique wallet account for each one of your end customers, enabling you to:
Customise the movement of funds, going beyond just simple payment collection and disbursement. You can move funds from a single payer to multiple payees, from multiple payers to multiple payees and so on.

Offer various payment methods to all end customers through a suite of APIs. This flexibility lets you offer card payments, bank transfers, local payment rails, and more all through Zai, including real-time transactions.

Automatically move funds between multiple parties based on payment events and rules you set up. This enables quicker disbursement, saving you the hassle of making manual payouts to several suppliers.

Receive instant notifications for specific payment events that you can create via our webhooks.

Split funds automatically for multi-party disbursements, including your own commission or fees, based on your payment workflows.

Track and manage payments from one place because the movement of funds takes place within the Zai ecosystem.

Use a personal dashboard to monitor transactions and end-customer profiles, see payment history, and make and manage refunds.
Also, you'll never have to factor Zai's fee into the movement of funds because we bill you on a monthly basis. This way your payment flows are easier to manage.
Why choose Zai for your healthcare payment processing solution
At Zai, we pride ourselves on being a bespoke, tech-focused payment solutions provider for growing Australian healthcare platforms. Here are some of the reasons why our customers choose to use us for their payment needs:
Offer your customers the payment methods they want
Your customers and providers have different payment needs and preferences. As a leading payment provider in Australia, Zai lets you offer several international and local payment types on your platform, including:
These methods are accessible through our RESTful APIs. That means you can add them to your system as you see fit, without harming your well-crafted interface and customer experience (CX). You can use these mediums interchangeably depending on each customer and supplier profile or need.
For example, say healthcare consumers want to pay with cards, but suppliers like pharmacies or medical practices need to receive funds through bank transfer. In that case, our APIs will let you take in the card payment on your website then payout those funds via a bank transfer or NPP real-time payment, all in one flow.
We also connect to payment gateways on your behalf. Find out more about how we work as a payment gateway provider.
Split and automate your payment flows regardless of complexity
Our split payments feature gives you the power to effortlessly divide either a single payin into multiple payouts, or multiple payins into one outbound transaction. This feature is great for healthcare platforms that want to build and automate complex payment flows.
Suppose your business acts as a marketplace for athletes looking for nutritionists. In this scenario, an amateur rugby player might purchase a consultation session from a practitioner through your platform. During the session, she recommends a supplement and sends him a link to that product on your platform's online shop.
At the end of the consultation, she sends the athlete an automated payment form for the session and the supplement, totalling $200: $150 for the consultation and $50 for the product. With his consent, the platform sends a message over API to Zai to debit his linked credit card. From here, our system gets to work.
Through Zai, the platform gives each end customer (in this case the nutritionist and the product vendor) a dedicated wallet account. As the online payment comes in from the athlete, our tools will automatically split that payment three ways:
$50 to the vendor

$142.50 for the nutritionist

$7.50 to the platform as a commission for the session.
All three parties receive instant notification that the funds are available to them. For the vendor, that confirmation means they can start processing the order for the supplement right away. For the nutritionist, she can rest assured that she's been paid for her services. The platform, meanwhile, has cash on hand at that moment, adding liquidating and working capital as transactions occur.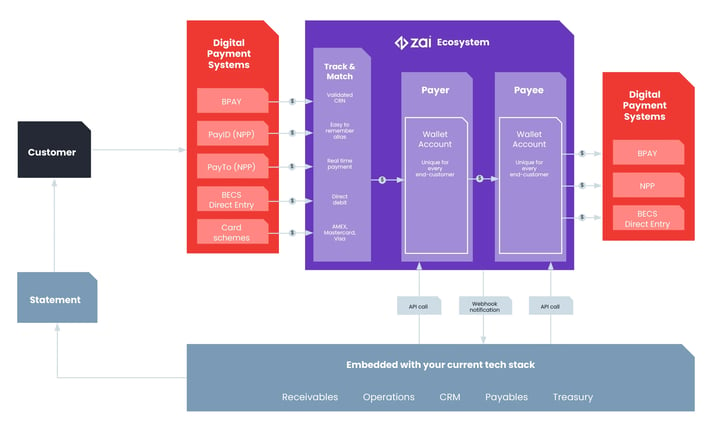 Enable fast payments for your suppliers
Our wallet accounts and split payment capabilities all take place within our ecosystem, resulting in instant settlement. For you, that means tailoring your payment experience to the needs and preferences of your suppliers. With Zai, you can:
Split funds between parties.

Move funds between participants.

Allow automatic and fast payouts for customers or multiple beneficiaries.
Your payment orchestration needs are customisable with Zai. No matter the complexity of your business model or payment flow, our solutions can handle it in real-time through our RESTful APIs.
Want to get your developers involved? Have them check out our technical documentation and API guides.
Stay on top of reconciliation with our API-powered ledger
With notifications through webhooks and on-demand data calls, you can get an up-to-the-minute view of transactions and balances happening on your healthcare platform.
Combined with our virtual accounts, you can get automatic reconciliation, freeing your finance teams to focus on more value-driven tasks while also knowing that your ledger is accurate. With Zai, you're free to access your payment data any way of your choosing, be it an ERP integration, our dashboard, or a custom-built solution.
Manage funds with increased security
You can process payments within Zai's payment ecosystem securely. We have built-in fraud protection, such as Know Your Customer (KYC) and anti-money laundering (AML) checks for more secure payments.
For your credit card processing you can also rest assured because we have PCI DSS Level 2 compliance. We also take care of the tokenization of cards so your end-customers card data is encrypted and safely stored.
Get the needed support to build a bespoke healthcare payment solution
Our mission to help you reach your goals begins at our first contact. After we do an introduction call and see if we're a good fit for your needs, we arrange a follow-up meeting with our payment technology experts.
During that discussion, we learn about how you see your ideal payment solution for your healthcare platform. Our experts then get to work crafting out a proposal while your tech leads get the keys to our sandbox to get familiar with how our APIs work.
Once you're satisfied with our proposal, we'll support you with any questions you and your tech teams might have as you build your new payment solution. As soon as you're ready to go live, we're there to closely monitor your implementation. You'll have a dedicated account manager ready to assist you with any questions you might have.
We know how crucial it is that your payment infrastructure works. As a company born and based in Australia, we provide local support with experts who intimately understand your market, its needs, and customs.
We're also constantly watching payment trends as they develop.
Whenever a new payment medium becomes available, we work to add it to our library. Our customers can rest assured that their payment infrastructure is future-proof.
How Zai helped a fast-growing healthcare marketplace overcome their payment challenges
A growing healthcare marketplace based in Melbourne connects patients with doctors, chemists, and pharmaceuticals to make telemedicine more accessible for those needing consultation and prescriptions.
The marketplace's patient-payment platform, however, was becoming more cumbersome as they grew because they could only disburse to their pharmacy partners at the end of each month. This meant they had to review all their banking files and work out their margins manually before sending off the monthly net payouts.
The marketplace reached out to Zai to see how we could help. Our experts proposed leveraging Zai's payment APIs to consolidate and automate the company's current setup into one API-powered system, which entailed:
Creating wallet accounts for each pharmacy partner.

Splitting a processed payment and automatically placing the correct funds into the wallets of each pharmacy partner and into the company's wallet for their own fee.

Disbursing funds to each partner via NPP real-time transfers.
The results of this new payment system were immediate. The finance teams no longer needed to manage disbursements manually. They could also track transaction activity via Zai's dashboard thanks to webhook notifications via APIs. Most importantly, their pharmacy partners received payments instantly.
Thanks to Zai's payment processing solution, the company has improved its margins, boosted it business model and built more pharmacy relationships.
Transform your healthcare platform with better payments through Zai
For Australian companies disrupting the healthcare industry, the way they handle payments can make or break their growth strategy. They can either continue to transform healthcare for a growing audience or struggle to get over the payments barrier holding them back.
Zai's payment processing solutions make it easier to build a game-changing payment ecosystem to enable your healthcare platform to grow as you envision. We're ready to help you reimagine the way you handle payments and give your customers and providers the payment experience you envision. Contact us today to get the conversation started.
This information is correct as of July 2023. This information is not to be relied on in making a decision with regard to an investment. We strongly recommend that you obtain independent financial advice before making any form of investment or significant financial transaction. This article is purely for general information purposes.