If you're searching for reliable Stripe Connect alternatives that can meet the needs of your scaling business, then you're in the right place.
There's no denying that Stripe works well as a fast, out-of-the-box solution for card payments. However, if you need something more complex and end-to-end, it's helpful to know what local alternatives are available.
At Zai, we speak to a lot of Australian companies that have had different experiences with Stripe and are looking for better alternatives. Some of the most common challenges they face include:
Having funds frozen without notice and being off-boarded suddenly.

Limited payment options and a lack of flexibility.

Absence of responsive, localised customer support.

High and prohibitive payout fees for some business verticals.
In this article, we'll be covering Stripe alternatives, including:
It's important to note that there isn't one direct alternative to using Stripe. It all depends on your specific business needs and then finding the payment processing providers that best meet your requirements.
Don't want to wait? If you're looking for a full suite alternative, speak to us at Zai and find out how we can help your business grow faster.
Common issues with Stripe
It's an unpleasant scenario: you're ready to disburse funds but learn that your account is frozen and you've lost access. Or worse, you've been offboarded suddenly and can't get through to anyone at Stripe in your local timezone. Meanwhile, you have suppliers or customers to pay and your options are limited.
While you'll probably agree that this scenario can be stressful, it also has the capacity to ruin your business and your reputation with suppliers or customers.
Some of the issues you might face with Stripe:
Having funds frozen without notice and being offboarded suddenly is one of the toughest experiences businesses have shared with us. It not only leaves you with limited options (see above) it can hurt your business too.

Limited payment options and a lack of flexibility is another common complaint. If you're looking to offer customers more payment options and a better experience, you'll need to look elsewhere.

The absence of responsive, localised customer support in Australia is one of the most important issues we hear about. Having access to local support with faster response times than Stripe is a huge benefit.

High and prohibitive payout fees for some business verticals can be another reason for businesses to look elsewhere. Stripe active user fees can be quite prohibitive (at around $2 per user) especially for some sectors, like fintech.
Full suite payment alternatives
Depending on your business vertical, you might be looking to grow outside of card payments and begin offering a wider range of payment options or services to your clients. You may also be searching for a competitive rate, local support, and an overall better payment experience for your end customer.
There aren't many full suite payment options in Australia, since most payment providers are specialists in one area, such as direct debits, for example. If you're looking for a Stripe alternative that offers multiple solutions in one, Zai might be a good fit:
Zai
For scale-ups, very few payment processors can offer flexible payment options and Zai is one of the best full-suite payment solutions in the market, with a powerful API for more flexibility. Solutions include:
Card payments.

BPAY.

Real-time payments (NPP-enabled solutions like PayTo).

Overnight payments (via BECS and SWIFT).

Split payments.

Online fraud risk management and fraud prevention.

Virtual accounts (for simplified reconciliation).

API integrations.

APMs (Alternative Payment Methods).
Whereas Stripe is more self-serve, at Zai, we are a lot more hands-on. After assessing your business, we'll help you build custom payment functionality suited to your specific needs.
There are other benefits to working with Zai too:
No frozen or suspended accounts
The main reason Stripe freezes accounts is that they do KYC and account verification at the least convenient moment: when you need to disburse funds. At Zai, we do all the KYC and account verification during onboarding, so you'll never have to worry about frozen accounts and will always be able to pay suppliers and customers.
Add and have access to more payment options
Stripe has a limited range of payment options, and might not have the newest Australian payment methods like PayTo. At Zai, you can make real-time NPP payments, and we're live with PayTo. As your business grows, you'll be able to keep adding new payment options.
Also, we specialise in complex payment workflows. This means that no matter how complex your business gets, we can help you find a payment solution that works.
You may like: PayTo: How to prepare and plan for it (with use cases and examples!)
Receive faster, personalised support
We're based in Australia, which means we understand the Australian payment ecosystem and are available during your business hours. Not only that, but as our customer, you won't be just another cog in a big machine. We'll have a direct relationship with you and offer personalised support.
Work with a partner that scales with you
When it comes to managing payment complexity, this is where Zai excels. As a payment partner, we can help you get set up and scale more efficiently than other service providers.
For example, many of our proptech (property technology) clients have complex business models. Since payments often need to be split amongst various parties (tradesmen, landlords, agents, etc) and percentages can vary, and they require different payment options, such as split payments or BPAY and real-time payments (NPP).
With Zai, proptech companies can enable tenants to pay using multiple payment methods. Using our API, the payment is then automatically split to each party.

With our split payments API, platforms have the flexibility to design custom payment flows in a way that fits their business. See an example of how this works for a marketplace, or for payments with multiple parties: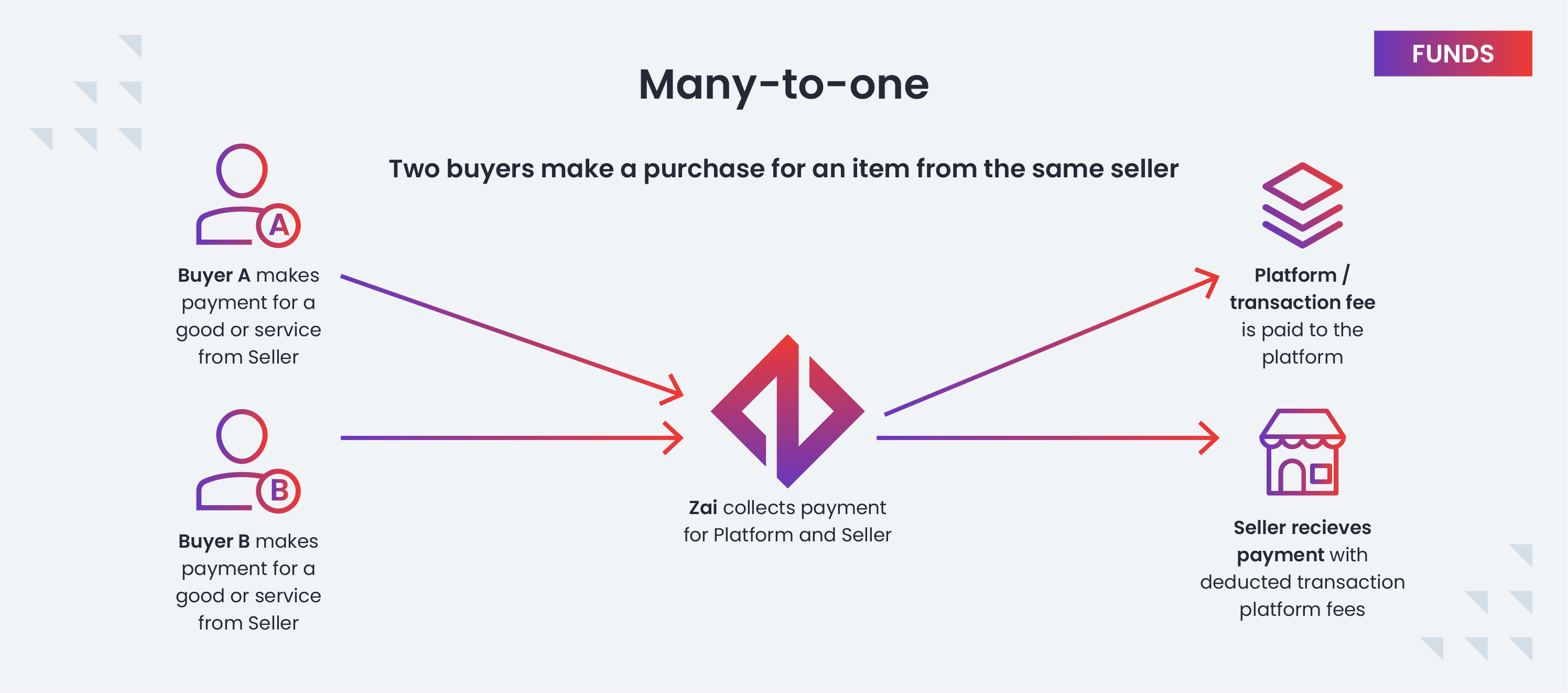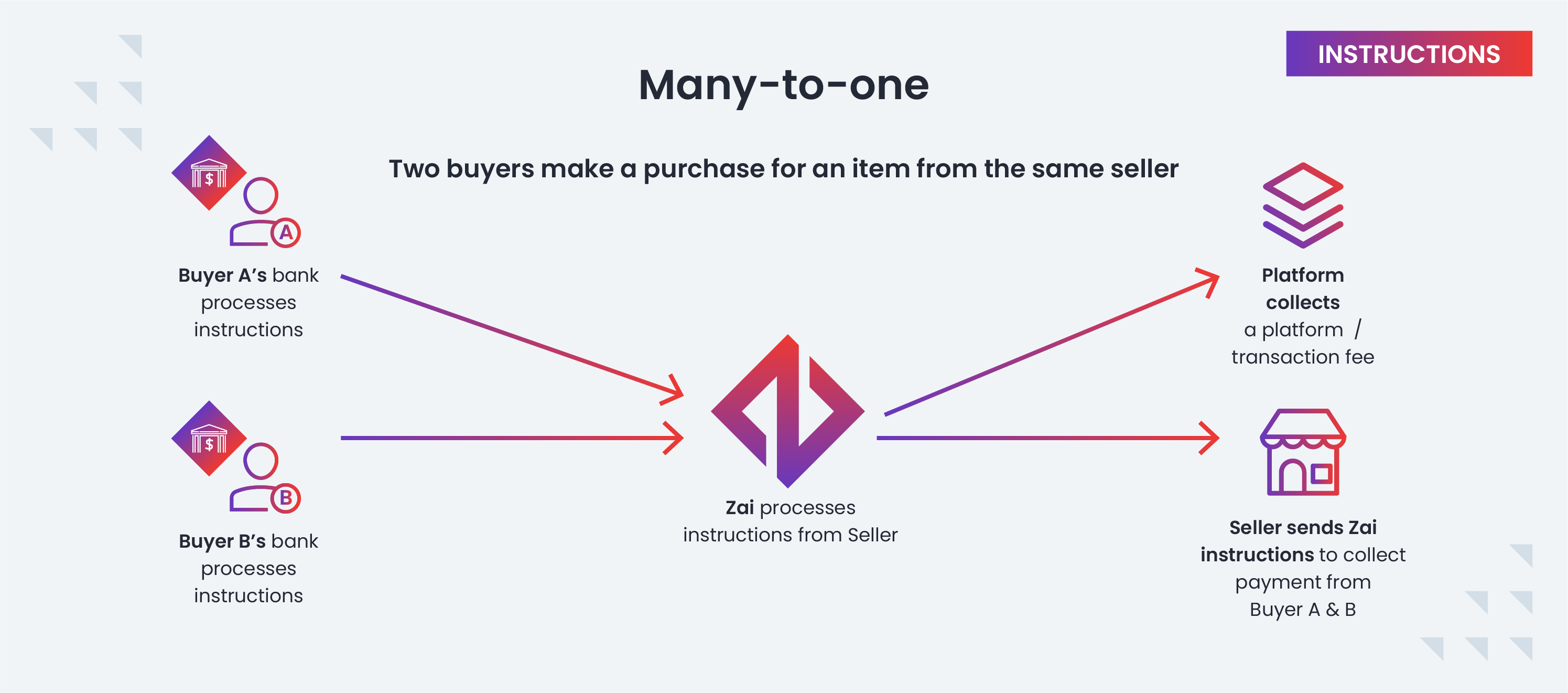 Who is Zai best for?
Zai is best for companies looking to move outside card payments and those that have more payment complexity and might be looking for a payment orchestration platform. Whereas Stripe is more of a "ticking-the-box exercise", Zai offers multiple payment methods with tailored solutions for Australian businesses.
Although we are agnostic regarding who we offer payment solutions to, we are a good fit for companies with complex payment workflows, such as marketplaces, proptech, shipping and logistics.
You may like: Multi-party payments: How they work and when to implement them
Card payment alternatives
Zai
As a full-suite payment provider, we can support you with card payments, but we can also offer more, including BPAY and real-time payments (NPP and PayTo) and overnight payment via bank transfer (using BECS) in Australia.
Depending on your business needs, virtual accounts can be allocated to each user for incoming payments to speed up the reconciliation process.
For more complex payment needs, Zai's API enables customers to track payment flows and further automate the reconciliation process.
Features
Accepts all major credit cards (Visa, Mastercard and Amex).

E-wallets.

BPAY Payin.

Split payments API.

Real-time payments (NPP) PayID.

Bank transfer (via BECS).

Token payments.

Subscription payments.

PCI DSS compliant (PCI SAQ-A compliance level).
You can learn more about Zai's card payments here: Zai Card Payments
Eway
Eway also offers a solid range of online payment options for growing businesses including a payment gateway and merchant account. It has a simple pricing structure which allows you to pay only for what you use. The company also offers Click to Pay, which is a cost-effective option for a fast and frictionless checkout experience.
Features
Accepts all major credit cards (Visa, Mastercard and Amex).

Built-in fraud protection with every Eway account.

Flat-rate fee structure for most major and domestic credit card processing with simple pricing options, depending on the size of your company.

Click to Pay – Visa Checkout, MasterPass and Amex Express Checkout.

Secure data storage.

Pre-authorisation option to reserve funds on customer's card before charging.

A merchant portal that provides access to easy refunds.
SecurePay
Australia Post's SecurePay is used by over 90,000 Australian businesses making it one of the better-known card payment alternative providers with a strong emphasis on security. It is also favoured by businesses that need to take payment for one-off transactions.
Features
Accepts all major credit cards as well as PayPal and POLi.

Advanced fraud protection using FraudGuard.

Payment gateway and merchant account.

PCI DSS compliant and award-winning security/anti-fraud solution.

OAuth 2.0 standard of online security for safeguarding credentials.

Good for one-off transactions.

Offers Dynamic Currency Conversion (DCC), so customers can pay in their preferred currency (only for Visa and Mastercard).

Transparent pricing options.
Direct debit or recurring payment alternatives
If your business has any kind of recurring fees – such as customer fees, real estate fees, education, childcare, wellness memberships, and more – it's smart to look for direct debit alternatives to manage recurring billing.
Zai
Zai has a flexible and scalable direct debit solution which enables consistent and reliable cash flow. Although we do more than direct debits – helping clients to manage payments across the board – Zai's API also allows you to set up direct debits making them even easier to manage.
Features
API to automate payments and payouts.

Bank payout in real-time or overnight.

Uses local clearing methods.

Send payment directly to local bank accounts.

Supports BPAY, NPP and SWIFT (for Australian clients).

API for easier payment disbursement.

Clear funds in one to three business days.

Customise payment frequency.

Accept payments from all Australian banks.

Integrate direct debits into your platform for a better customer experience.

Excellent documentation (good for developers and product managers).

Flat fees.

Helps with more accurate forecasting and effective pricing strategies.

Move away from cards and boost company growth from the balance sheet.

One fee for successful and delinquent transactions (you can pass on dishonour fees).

Handle payment complexity with ease.

Zai offers a multi-step release for milestone payments based on rules, or triggers, set by you.

Can offer partial releases and manage the complexity of multi-party transactions including credit cards, debit cards and BPAY.
You can learn more about our direct debit solution here: Zai Direct Debit Payments
Ezidebit
Queensland-based company, Ezidebit, is now part of Global Payments Inc, headquartered in the United States. It offers an API for custom integrations, but their strength is in their ability to plug into different platforms using no-code solutions.
Ezidebit also offers quick onboarding so you can start accepting direct debits and go to market faster. However, we'd also note that faster onboarding doesn't always mean better - and compliance issues can still arise down the line.
Features
Ezidebit Direct Debit (a "set and forget" payments solution).

Good for recurring payments from cards or bank accounts.

Easy to set up, secure and fully PCI DSS compliant.

API and online portal for adding integrations.

Useful for recurring subscriptions.

Online portal offers a plug-in, no-code solution.

No business or merchant account is required.

Cross-border debits.

Accept cross-border direct debits from customers abroad.

Start-up and SME-friendly pricing.
Real-time payments alternatives
Zai
We are specialists in split payments and handle all NPP validation and reconciliation automatically so you don't have to. Meaning that if a payment fails or an agreement isn't valid, we'll automatically return it to the payer's bank.
Features
PayTo for Australian businesses.

A good option for pre-authorising digital payments and initiating real-time payments from customers' bank accounts.

PayTo is a pull payment, but once the customer validates the agreement, the payment is made automatically.

Until now, the New Payments Platform (NPP) has only supported push payments (where the payee must initiate the payment), but PayTo enables customers to authorise third-party payment initiation via the NPP.

NPP validation and reconciliation.

Make payment transactions faster, easier and smarter.

Real-time payment clearing and settlement between participating banks – good for simple or complex payments.

Zai handles all NPP validation and reconciliation automatically so you don't have to (including payment failures).

Split payments and multi-party payments.

Set up payment flows that automatically credit and debit various users.

Use our API to set up multiple flows to split the payment amount.
Learn more about our PayTo service.
Monoova
The Sydney-based payments provider offers different solutions for scaling businesses including PayTo and NPP with round-the-clock real-time payments.
Features
Real-time payments (NPP).
Real-time account payables and receivables with notifications and automatic reconciliation.

Assigns unique PayIDs and account numbers (for easier reconciliation).

Make and receive payment instantly at any day or time of the week.

Multiple virtual accounts allow you to segregate payments for different income streams and reporting purposes.

Superior customer experience.
Pay clients in real-time so they have immediate access to funds.

No risk of having orphaned payments.

Use APIs to automate and manage all incoming and outgoing payments.

High data security standards with round-the-clock monitoring.
PayTo for Australian businesses (launching mid-2022).

Streamline operations and improve cash flow using real-time transactions and funds verification.

Simplify reconciliation using additional data in PayTo agreements.

Receive notifications when a payment is paused, changed, or cancelled.

Reduce errors with real-time account validation.
Shopping cart integration alternatives
Businesses looking for options that plug into e-commerce sites and features like Magento, Shopify or WooCommerce may also need a specialist provider.
While each use case and vertical is different, you can opt for a full suite payment solution like Zai, or take a multi-pronged approach, e.g. your bank, Zai and other shopping cart alternatives like Eway or Fat Zebra.
Eway
Also in the card payment alternatives section, Eway offers scaling e-commerce businesses some appealing options to improve the user experience. Eway is a good option if you already have your own merchant account with your bank and want to keep benefiting from their pricing, or if you're in a high-risk industry.
Features
Payment Gateway Solutions.

Take online payments via a custom-built integration for your shopping cart.

Tools to link your business to your bank with fast settlement and benefits including lower transaction fees.

The ability to reach or manage risk levels as designated by the bank.

Good for scaling businesses.

Easy integration and payment acceptance for businesses that have a merchant account with their bank.

Over 250 software integrations for shopping carts, invoices and other software.

Secure and customer-centric checkout experience; PCI DSS (Level 1 PCI Compliant).

Low transaction fees and free transactions based on the plan you choose.
Fat Zebra
Fat Zebra is an Australian payments platform for businesses looking for fast growth, especially in e-commerce. Positioned as a payments engine that "dynamically routes traffic to ensure you eliminate downtime", Fat Zebra offers out-of-the-box or customisable shopping cart integrations for most e-commerce platforms, with no coding required.
Features
Shopping cart integrations for e-commerce sites and providers including Magento, WooCommerce, WP eCommerce, Zen Cart, Spiffy Stores and more.

Production-ready integrations and technology (from components to webhooks) with good documentation.

Integrates PayPal and other payment options at checkout including Masterpass in WooCommerce, Click to Pay for WooCommerce, Apple Pay and Google Pay.

PCI DSS (Level 1 PCI Compliant) with a strong focus on data encryption, including separate rails for all card credentials and Fat Zebra's primary services.
Best Stripe Connect alternatives: plug and play with what works best for you
Stripe offers a great out-of-the-box solution for small businesses or SaaS companies with simple payment needs, but it has its limitations.
In this article we wanted to give you an overview of some alternative providers, however, depending on your needs you may decide to take a multi-pronged approach and work with different partners. The main consideration of this approach is that if one part fails it may have an impact on other areas of your business.
Zai's full-suite solution is best suited to businesses with more complex payment needs. Having everything under one umbrella with Zai also reduces operational complexity and is less stressful for businesses looking to scale.
Finally, we offer customer support in your local time zone. Something we understand that many Australian businesses value when it comes to financial services.
Ready to speak to someone at Zai? Get in touch with us here.


Sources:
https://www.eway.com.au/online-payments/

https://www.eway.com.au/taking-payments/

https://www.ezidebit.com/en-au/how-does-direct-debit-work

https://www.monoova.com/npp

https://www.monoova.com/payto

https://www.fatzebra.com/platform/payments

https://www.fatzebra.com/platform/integrations