As a growing Australian proptech platform you've likely run into issues around setting up and managing a rent collection system. These include:
The hassle of constantly chasing reports and piecing together all the payment activities happening on your platform, which makes reconciliation and client support a nightmare.

Having trouble providing the different payment options your platform customers prefer.

Dealing with bottlenecks as you try to create a more bespoke and complex rent collection and payment disbursement system.

Trying to juggle the different and sometimes conflicting requirements from multiple payment vendors, which slows down your platform and creates extra work for your team.
In this article, we look at how Zai helps growing proptech companies overcome these challenges. We'll explore:
Zai helps leading proptech platforms in Australia build comprehensive rent collection and payment systems. Contact us now to learn how we can help take your proptech platform to the next level.
How Zai's rent payment collection system works
We're going to let you in on a little secret: we don't have an out-of-the-box, one-size-fits-all rent collection and payment system that many other payment providers offer. Instead, our solution combines several payment tools with a suite of RESTful APIs suitable for growing proptechs and other tech-driven platforms.
We prefer this approach because it lets you build a bespoke rent collection system to fit your business needs. With Zai, you'll no longer need to adjust your payment system to match new requirements because we adapt to your platform and existing stack. Our solution simplifies rent collection and payments while giving your product teams a new world of possibilities.
Here's how easy it is to set up a rent collection system with Zai:
1. Set your payment rules
Before you collect a single rent or pay any end customer, you set custom rules for all payments entering, moving through, and leaving your platform. These parameters can be as simple or as complicated as you need them to be.
Once you've set your rules, you're ready to go as automation on our end will handle the rest – no need to push or manually settle payments.
2. Collect online rent payments and other funds with direct debit, bank transfer or other methods
Your tenants can set up a direct debit to pay rent online directly on your platform thanks to Zai's APIs. We can also support BPAY and the new PayTo standard. Since we're always connected to these payment networks, you can get immediate notification via our webhooks when an online rent payment gets pulled.
If your platform also enables renters to pay for other services such as utilities and maintenance fees, you can collect those with both card payments and bank transfers because we can handle the payment processing.
3. Keep funds in a unique wallet account for each one of your customers
As soon as a payment hits your platform, you can immediately assign them to individual wallet accounts linked to each one of your customers. That way, you can stay on top of who is holding what at all times, whether it's a landlord, property manager, maintenance company or whoever else needs to receive funds.
To enable automatic matching, tracking and reconciling of incoming payments to wallet accounts, you can set up virtual accounts that link to wallet accounts with Zai. This means you can:
Do away with manual reconciliation. Virtual accounts can match and reconcile direct debits and payments made via the New Payments Platform (NPP) automatically.

Track with greater visibility because customers can make payments to a dedicated BSB and account number.

Receive instant notifications via our webhooks each time you collect a payment on your proptech platform.

Increase your number of successful payments and decrease failed transactions for a better customer experience.
Note: If most of your customers use BPAY, you may not want to set up virtual accounts because BPAY validates the payer's payment-reference information before processing.
4. Split funds to multiple parties according to your disbursement rules
Once funds enter a wallet account, you're free to automate their distribution as you see fit. For example, you could split a rent payment into smaller tranches, which then go to the wallet accounts of the property manager, building maintenance fund, and even to your account to cover your fees.
Since all participant wallet accounts sit within Zai's ecosystem, any split or automation rule you set settles instantly, regardless of the time or day. If your customers want to send their money off your platform, we can handle that, too, as we support all popular disbursement payment options via our RESTful APIs.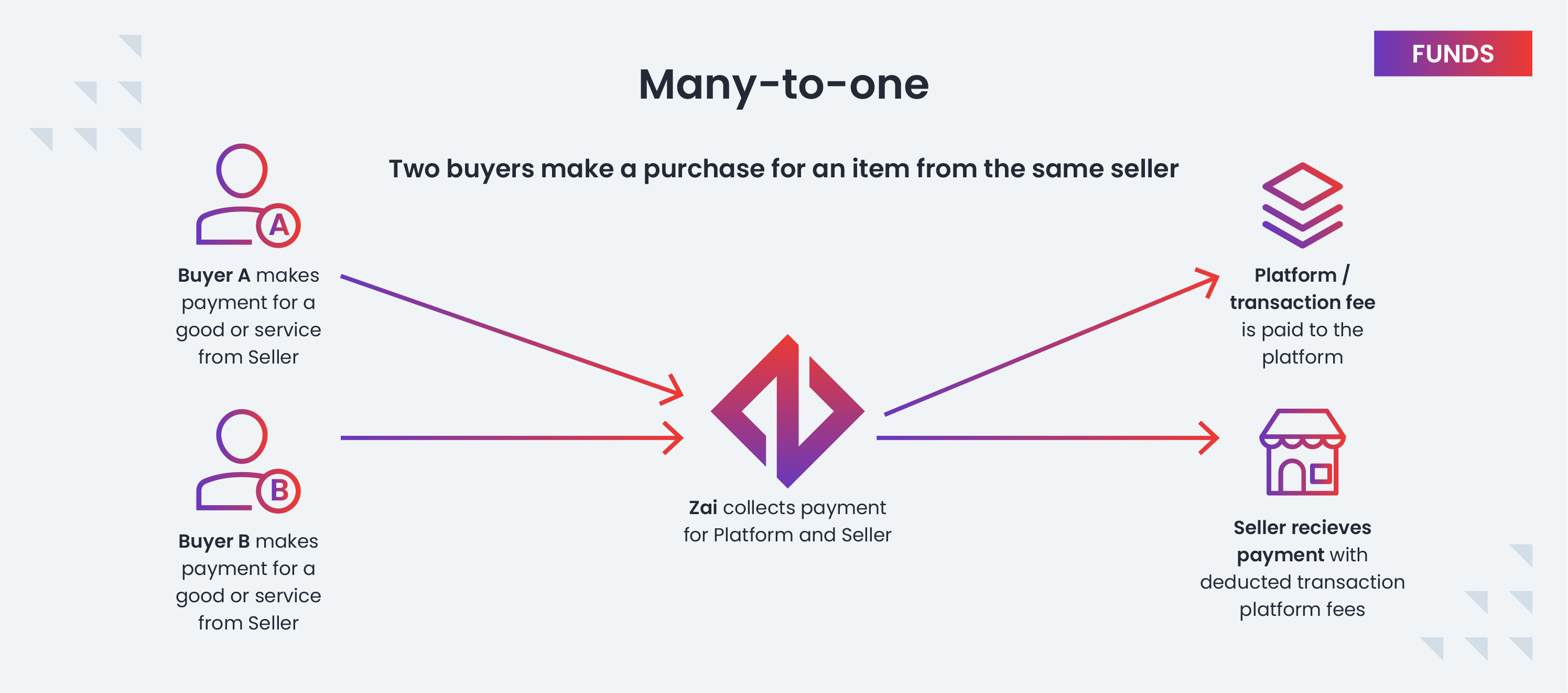 5. Stay on top of all payment activity as it happens
We offer you a wide range of reporting tools, available via API calls, webhooks, and our dashboard. You can also get payment balances in real-time and the ability to issue refunds.
Why Zai's rent collection system might be a good fit for you
Because our rent collection system combines our payment tech and financial data building blocks, all our features and benefits are too long for a single blog post. However, here are the favourite ones our proptech clients use to power their rent collection systems.
Know exactly where multi-party funds are on your platform with real-time data
Zai's APIs, webhooks, and dashboard give you an on-demand and instant view of financial transactions on your platform as they happen. This readily available information adds value to your proptech platform on three different levels:
You can see each end customer's up-to-date financial position on your platform. With just a couple of clicks, you can see if tenants paid their rent on time and if landlords and property managers received their disbursements. This data lets you avoid miscommunication with your end-customers.

Your finance department knows exactly where funds are. Reconciliation shouldn't be a headache for your finance and accounting teams. These key individuals can access balances and reports either via our dashboard, an ERP or other front-end tools connected to your property management software thanks to our RESTful APIs.

You can manage payments and refunds in a secure environment. Thanks to multi-factor authentication, you can track and manage transactions through our dashboard safely. You can track and view payment history, issue refunds, and see transaction reimbursements and payer profiles.
Wallet accounts make it easy for you and your end-customers to keep track of funds
With Zai's rent collection system, you can create a unique wallet account for each tenant, landlord, and end-customer on your platform. You decide how to split and where to send funds once they're received from a renter. This means you can automate the disbursement of funds into the wallet accounts of property owners, property managers, service providers, and other end-customers.
Combined with the above-mentioned data intelligence tools, you can see who holds funds and how much at any time and with the most up-to-date information.
Collect rent online and make payments to your end-customers in whichever medium they prefer
Your ideal product state might envision bringing all parts of the rental management and property investment ecosystem together under one roof. In that world, each one of your end customers – from tenants, to property managers, to support services – will have a different payment method preference. Zai's rent collection and payment solutions can handle many payment mediums available in Australia, all via our API:
Direct debit, BPAY and PayTo. With Zai, you can choose several payment methods from traditional bank transfers and direct debits to BPAY, the new PayTo network, and real-time bank transfers via NPP. You can even assign unique PayIDs to each of your customers so you can reconcile payments instantly and automatically.

Card payment for utilities and other service providers. You can enable card payments to let your tenants or landlords pay utility and other bills via credit or debit cards.

Wire transfer for large one-off payments. Our rent collection system enables you to accept and make wire transfer payments via our API. That way, tenants can pay a security deposit. Likewise, property managers can cover large purchases for the properties they manage without using credit cards. This feature is useful for covering a failed direct debit. Or, if you're an investment proptech, it allows your customers to invest in a property.
Simplify collections and disbursements across your platform with just one payment provider
Zai can handle multiple payment types and methods for each one of your end-customers. That means you don't need to patch together different providers to build your ideal payment collection system.
Our tools go far beyond just collecting and making automatic payments. Our real magic lies in our ability to design custom payment flows that automate large parts of your end-customer journeys. For example, once your platform pulls the rent from a tenant in direct debit, you can automatically split and transfer that amount to various end customers, including:
The landlord.

The property management company.

The common building fund.

Maintenance fees.

Your account to accept fees.
With our split payments API, you can decide exactly when and where these onward payments go: either to another wallet account on your platform or to an external account.
Since you can run your entire payment ecosystem from one source with Zai, you can also reduce risk, compliance costs, overhead, and labour hours.
Set your payment rules once and let Zai handle the rest
We know how important it is for your customer payment experience to be seamless, automated, and predictable. That's why our rent collection system runs on predefined rules created by you.
Once you've set the criteria for collecting rent payments and splitting the funds, you're good to go as our technology handles the rest. Whenever you want to streamline collecting rent by adding or changing features, we can work with you to adjust the rules to meet your business needs.
Manage every step of your rent payment journey through our RESTful APIs
Your tech teams only need to integrate once with Zai instead of using multiple payment providers. You can then choose from our suite of RESTful APIs.
An integration with Zai can cover a host of possibilities, including:
Connectivity to various payment methods.

Split payment and multi-party payment routing.

Set up and modification of wallet accounts.

Creating, changing and deleting payment methods.

Accessing data and reporting information.
Any time you want to add a new payment feature, you can check out our available APIs and build them within your platform. And we'll always be on hand for any guidance along the way.
Want to know more? Take a look under the hood of Zai's payment tools in our API reference documentation and platform guides.
Build the rent collection system you envision with our products and experts
As we wrote earlier, our rent collection system isn't an out-of-the-box solution. Rather, each one is custom-made for each of our proptech platform customers. This process starts when our experts sit down with your finance, product and tech teams to find out exactly what problems you want to solve both today and in the future.
We then create a proposal for you while giving your developers a chance to play in our sandbox. After you're happy with our proposed solution, we'll work in conjunction with your tech and product leads to ensure that implementation goes as smoothly and as quickly as possible.
Whenever you want to iterate on your online rent collection system (or any other payment solution we're helping you with), we'll be there to guide you along the way.
Want to speak with one of our payment and technology experts? Contact us now to start the conversation.
How Zai helps a growing Australian proptech conquer the rent collection challenge
Born out of the idea of four real estate entrepreneurs, Managed App is an Australian proptech reimagining the property rental process. The platform brings together all end customers in a rental property – tenants, landlords and tradespeople – to automate what are traditionally slow and bureaucratic processes.
The founders quickly identified rent collection and the subsequent management of those funds as a key pain point for property managers who intermediate between different parties. They decided to tackle this problem face on, turning to Zai to help automate rent collection on the one hand, and paying out landlords and tradespeople on the other.
Zai's payment experts were quick to identify a solution, and built a proposed payflow schema that:
Leveraged direct debits to automate rent collection.

Split rent payments for landlords and tradespeople.

Delivered those funds to the accounts of their choosing via their preferred payment method.

Created instant withdrawals for landlords to improve their rental income liquidity.

Turbocharged reporting and data available to their end customers and internal teams.
The results provided by Zai's custom-built rent collection system spoke for themselves. Payment turnaround times went from nearly three weeks to under a minute, while year-over-year growth skyrocketed by 16x.
With Zai at their side, Managed App can now focus on what really matters: growing their market share while delivering a payment solution the professional rental property market deserves.
Read more about Managed App's success with Zai here on our blog.
Create the rent collection system your end customers will love with Zai
Payments and rent collection are one of the biggest challenges Australian proptechs want to solve. Those who are able to overcome these challenges and deliver the payment and rent collection experience their end customers want will grow in the process.
Zai's rent collection system enables growing and upstart proptechs to meet those demands head-on, while being ready to adapt to changing needs down the road. Speak to Zai today to see how we can build the online rent payment system your end customers will love.
This information is correct as of January 2023. This information is not to be relied on in making a decision with regard to an investment. We strongly recommend that you obtain independent financial advice before making any form of investment. This article is purely for general information purposes.